Can I Print More Than One Check at a Time?
When making payments from the system, whether using
Vendor Bills
or
AP Checks
, you may want to enter the payments first, then print them later in a batch.
Rather then printing them one by one, either at the time you create the check by hitting save and print or directly from the register, you can also select a group of checks you wish to print.

To batch print checks, you can take the following steps:

2) Click on the link labeled Batch Print Checks >

3) Select the Bank Account and Date Range then check off the checks you want to print.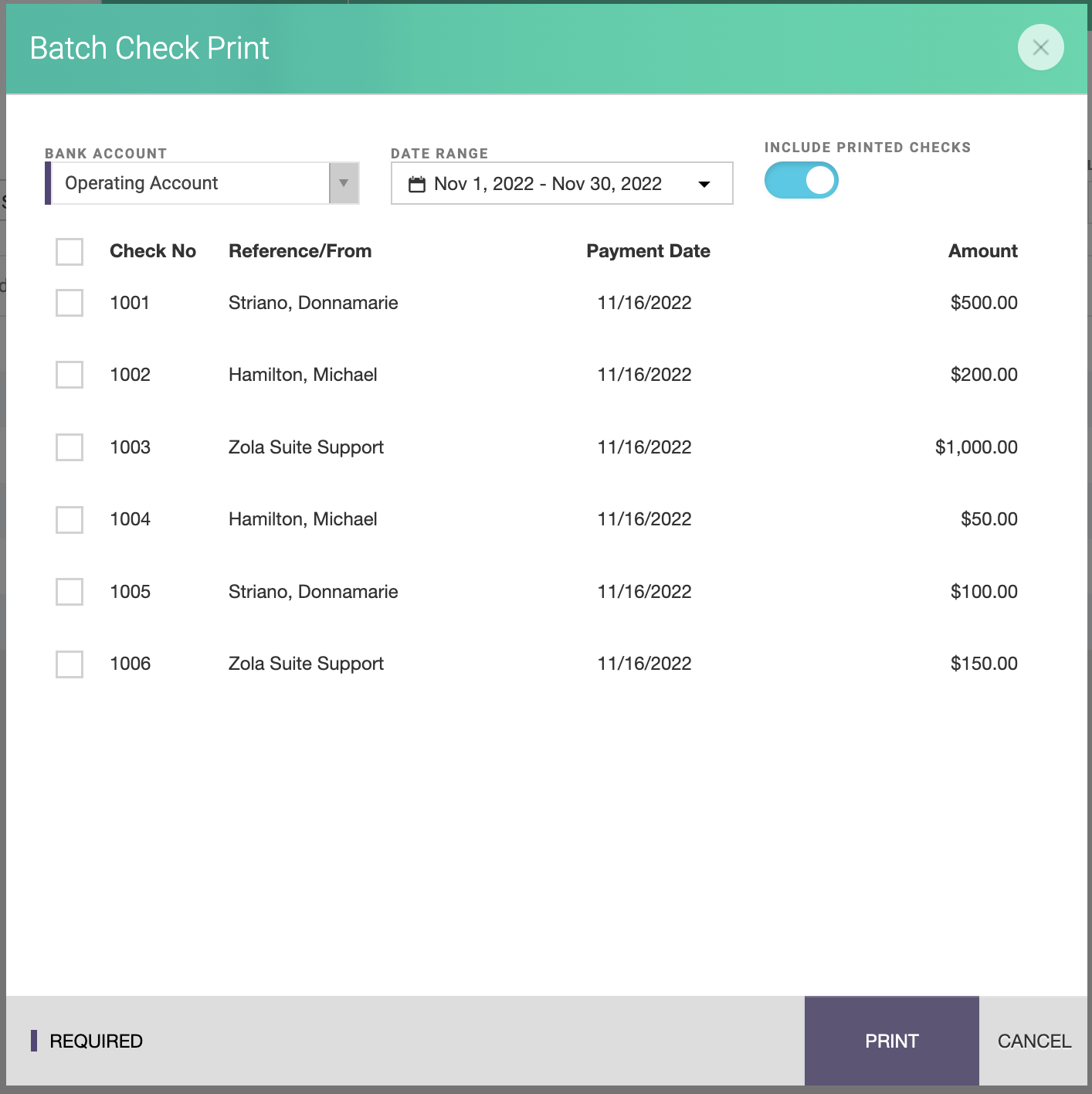 5) Click "Print."

After clicking "Print," the system will generate a pdf file with each of the check selects. You can then run the checks through your printer.


Be sure to check the pages before sending your blank checks through. Some checks, depending on the amount of line items, may spill over to another page.

Tip: Whenever printing checks from Zola Suite, be sure that "Fit to Page" is NOT selected as this can throw off the formatting and placement on the check itself.
Related Articles

What type of checks are compatible to print from Zola Suite?

If you are using the print check feature in Zola Suite, you will need 3-part business checks (these checks have a check on the top and two stubs below). These are often referred to as "Voucher Checks". Voucher checks that have the check in the middle ...

Alignment problems with check printing

Checks printed from Safari do not align properly because Safari doesn't allow you to add margins to a document when printing it. Thus, we recommend using either Google Chrome or Firefox to print out checks. When printing in Google Chrome, make sure ...

How Do I Print a Check From the Register?

If you would like to print out a check from the selected bank account to mail to the recipient or to have for your own records you can do so directly from the Register. Go to the Accounting and click on Banks & Registers tab Using Select Account ...

How Do I Print All Time Entries for a Matter?

You are able to print out all Time Entries for a Matter and use the advanced search to narrow down your results. Zola Suite offers two ways of printing. You can do this using the Export function which downloads the data into CSV format and Print to ...

How Do I Perform a Conflict Check?

You can perform a Conflict Check by using the Universal Search tool on the top right-hand corner of your screen. This will allow you to search the entire database for a particular word, phrase or name. The search bar will auto-suggest related words ...
Status
Experiencing degraded performance in CARET Legal?