Can I Send Text Messages From Zola Suite?
Client Texting provides firms with the ability to quickly connect with clients, leads and matter related contacts via in-app 2-way SMS messaging.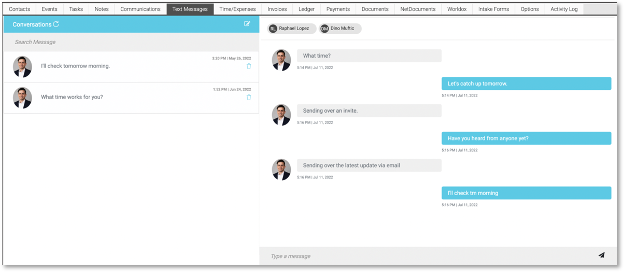 Before you can begin sending SMS messages from Zola Suite you will first need to enable Client Texting. An Admin must enable this feature via Firm Settings > Firm Options > Client Text


Text Messaging Tab / Dashboard won't display if Texting is not Enabled
After enabling client texting on the firm level, you are now set to begin sending and receiving text messages. Conversations will begin in Zola and can be started within the Matter/Lead Dashboard



MMS (images, videos, emojis) will not be included on received messages.


New text messages sent to the firm phone number will not be received unless they are in response to an existing conversation.

Related Articles

How do I View my Zola Suite Calendar on my iPhone?

While Zola Suite provides a 2 way sync with Office365 and Google Calendars, you may want to view your Events scheduled in Zola Suite on other Calendars. This will give you the ability to share your Zola Suite Calendar using a 1 way sync URL, where ...

How Do I Share Invoices With My Clients Through Zola Suite?

There are 2 ways that you can share invoices within Zola Suite: Send the invoice as an Email attachment or "Share via Caseway" To get started: Go to "Invoice & Payments" tab in the Accounting section Click on the More Actions button of the individual ...

Zola Suite Support

If you are in need of any assistance or would like to submit feedback please contact our support team General Support Submit a Ticket from Zola Suite (Recommended) Submitting a ticket through the interface by clicking on the "?" icon in the top right ...

When an Individual Is Invited to an Event, Does Zola Suite Send Out an Email?

Yes, Zola will send out a standard email invite allowing the user to accept or decline the invite. It's important to note, that depending on the email client being used by the recipient, the event, and response, will be saved differently. You will ...

Does Zola Suite Have OCR Functionality?

Zola Suite makes it easy to extract text from data tables, documents, and handwriting from virtually any file type and surface through an AI-enabled OCR scan. This equips Zola Suite with the ability to scan information on street signs, car license ...
Status
Experiencing degraded performance in Zola Suite?