Can I Turn Off Automatic Time Entries For Emails?
By default, Zola Suite starts a timer automatically when you draft an email associated with a matter and then generates a Time Entry for each message. However, you also have the ability to
review and edit the Time Entry prior to saving it or turn the feature off all together.
To turn the defaults off, go to your
My Settings
and scroll down to "User Preferences."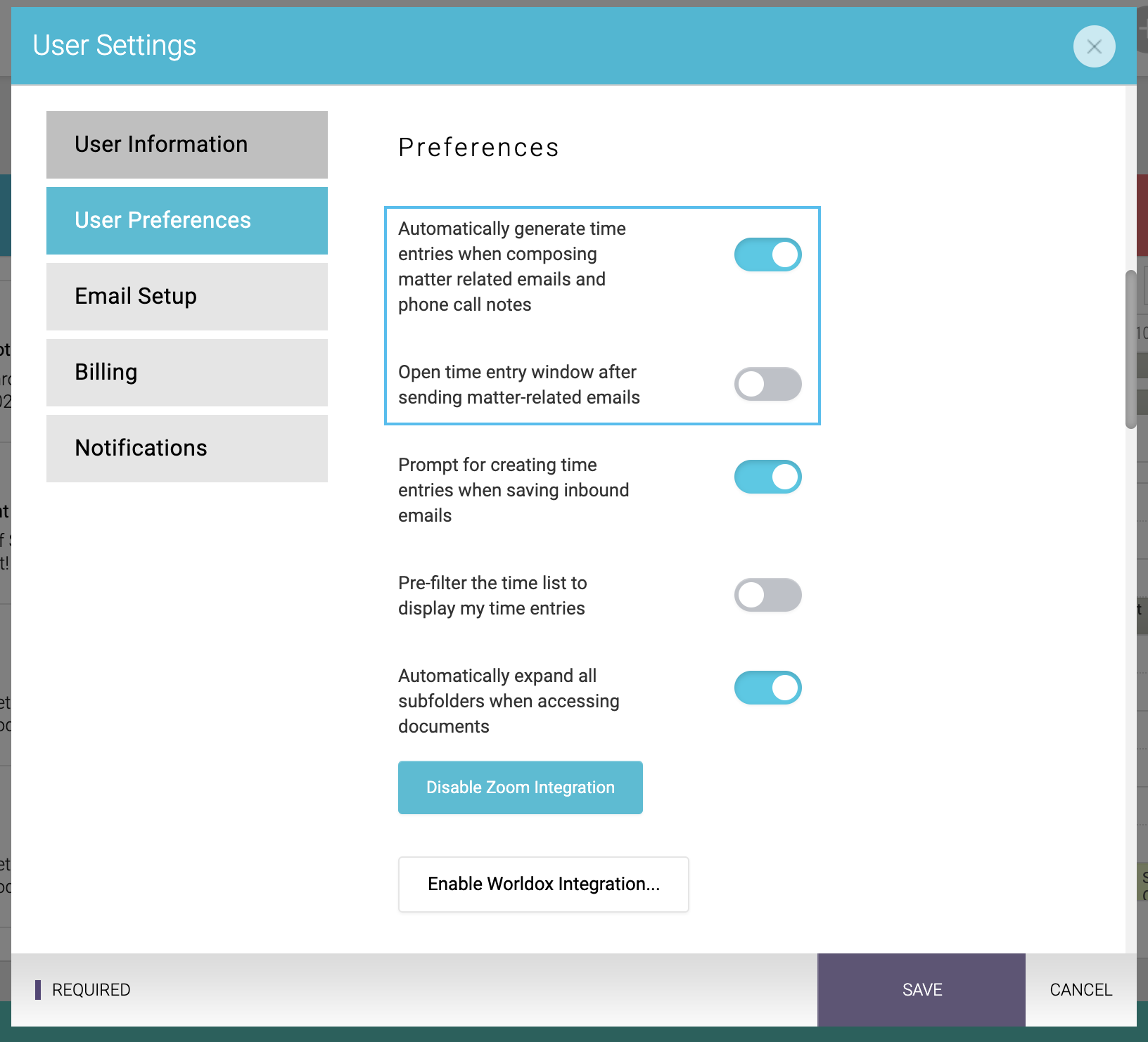 Toggle the on/off switches to make changes and click Save.
Related Articles

Quick Ways to Capture Time

If you are getting paid for time spent, then it goes without saying, if you aren't billing for your time, you are leaving money on the table. Zola Suite has several nifty ways to capture your time: Convert a Calendar entry to a Time Entry when ...

Can I Edit or Delete Invoiced Time Entries?

Zola Suite allows you to generate invoices from existing Time Entries and Expenses, which are considered "Unbilled Activity." Once the bill is created from that activity, the status will be marked as "Invoiced," and you will no longer see the edit or ...

How Do I Print All Time Entries for a Matter?

You are able to print out all Time Entries for a Matter and use the advanced search to narrow down your results. Zola Suite offers two ways of printing. You can do this using the Export function which downloads the data into CSV format and Print to ...

How Do I Assign Multiple Emails to a Matter?

Do you ever need to assign multiple emails to a single Matter? In Zola Suite, you can relate emails to a Matter in bulk. Once the Email Section has opened up, click on the box to the left of the email to select it. Select all the emails that you ...

What Are My Email Server Settings?

When syncing your email with Zola Suite, if you have an email that is hosted by anyone other than Microsoft Office 365/Exchange or G Suite/Gmail you will need to select 'Other' and get your email server settings for an IMAP connection. Every email ...
Status
Experiencing degraded performance in Zola Suite?