Can I Undo an .ICS Calendar Import?
A
Calendar
import can be undone from the calendar section of Zola Suite.
1. On the salmon action bar click
Import
and select
View Imported Feeds
in the dropdown.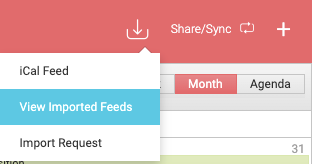 2. This window will show you all of the iCal feeds that have been imported into your account. Find the Calendar you would like to remove from Zola and click
Undo
. All events from this import will be removed from your Calendar.
Related Articles

How Do I Import a Calendar into Zola Suite?

You can import iCal feeds from another program into Zola Suite from the Calendar section. However, you will first need to export the calendar from the third party program to an ICS file or iCal feed. This is a one time import that can be reversed ...

Can National Holidays Be Added to My Calendar in Zola Suite?

Absolutely, National Holiday can be imported into Zola Suite's Calendar by ICS file or feed. How to Add/Import ICS file or feed You can upload a current ICS file by searching for "US holidays ICS download" and pick a provider. Once downloaded, ...

How do I export my calendar from Google?

You can only export calendars listed under "My calendars" on the left side of Google Calendar. To export a calendar, you also need to have the "Make changes and manage sharing" setting. Export events from all calendars On your computer, open Google ...

Does Zola Suite Offer Data Migrations?

If you'd like to have your data imported into Zola Suite you can fill out our Data Migration Request Form or navigate to the Calendar section. Click on "Import" to top of the page and click on "Import Request". You will first need to export your ...

How Do I Undo a Write-Off?

If you have previously written off the remaining balance of an invoice, but end up receiving payment for it, you can easily undo the write-off. Undoing the write-off will bring the balance back to the invoice, and increase your Accounts Receivable ...
Status
Experiencing degraded performance in CARET Legal?