Does Zola Suite Allow Me to Save an Email Signature? How Can I Create One?
Yes, Zola Suite allows you to save multiple email signatures to be included in outgoing messages.

Go to "My Settings" and scroll down to "Email Signatures". Here you will find the option to create and edit your email signature(s).




Select the (+) sign to create a new signature.


Enter a Signature Name

Create or copy/paste in your existing signature block
When you have finished click Save Signature

After the signature has been added, be sure to hit save within your My Settings as well.


When drafting a new email, you will be able to select the signature you'd like to use from a drop-down menu at the bottom of the window.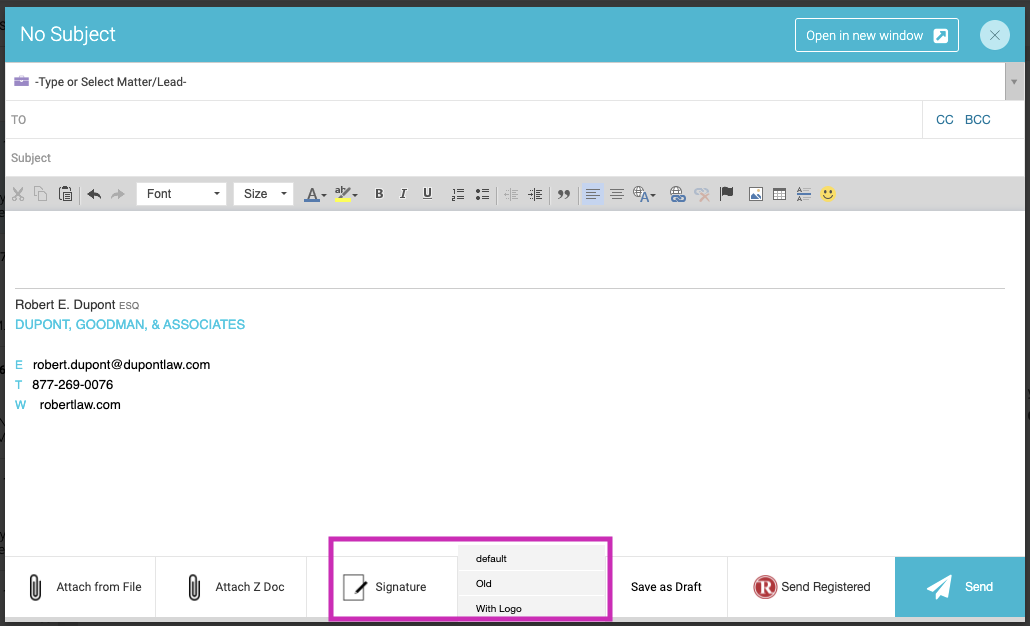 Related Articles

Why Should I Add My Email Account to Zola Suite?

Email is an essential piece of Zola Suite, and the one time setup is quick and painless. With our native email client, you get all the features of a regular email client in addition to being able to: Assign multiple emails to a matter with a click of ...

How Do I Save Email Attachments to My Zola Docs?

When you receive an email in Zola Suite you can save the attached documents to Zola Suite or save them to your computer files. Follow the steps below to save the attachment to Zola Suite: Go to Email section. Click on the Email attachment to open the ...

Email Setup Overview

Zola Suite's Email integration allows you to connect an existing email account to Zola Suite to help you manage your day-to-day tasks in one location. Follow the steps below to get started: When you log into Zola Suite, the first page you will see is ...

Are my Email Contacts Automatically Saved to my Zola Suite Contacts?

Anyone you send email to or receive email from will be saved to the autosaved contacts list from your email provider, but they will not be saved to Zola Suite. If you'd like to save a contact for a person that sent you an email, follow the steps ...

How Do I Delete An Email In Zola Suite?

Deleting Emails in your Zola Suite Email Client is simple! Follow the steps below. First, open the Zola Suite Email Client and locate the email you wish to delete. Next, either locate the trash can icon by hovering over the email in your inbox, or ...
Status
Experiencing degraded performance in Zola Suite?