Does Zola Suite Allow Me to Save an Email Signature? How Can I Create One?
Yes, Zola Suite allows you to save multiple email signatures to be included in outgoing messages.

Go to "My Settings" and scroll down to "Email Signatures". Here you will find the option to edit your account settings and input email account information, including your email signature(s).




Select the (+) sign to create a new signature. When you have finished it, be sure to click Save Signature.

After the signature has been added, be sure to hit save within your My Settings as well.


If your signature contains an image, the image will need to be hosted somewhere online. We can have our design team host it and upload the signature to your account. To do that we would just need an example of the signature you would like used.
When drafting a new email, you will be able to select the signature you'd like to use from a drop-down menu at the bottom of the window.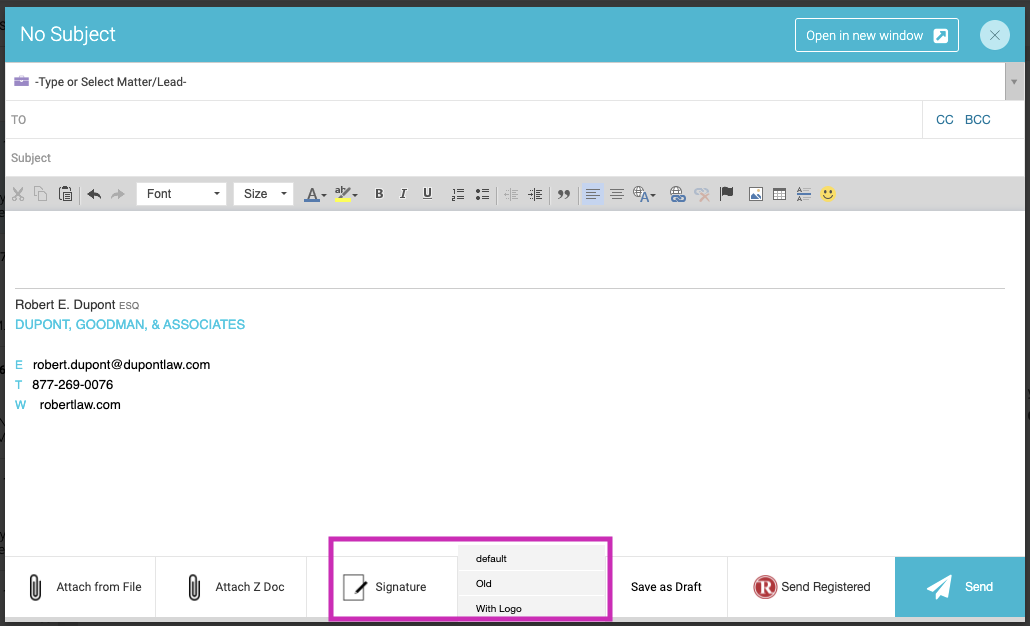 Related Articles

How Do I Save Email Attachments to My Zola Docs?

When you receive an email in Zola Suite you can save the attached documents to Zola Suite or save them to your computer files. Follow the steps below to save the attachment to Zola Suite: Go to Email section. Click on the Email attachment to open the ...

Email Setup Overview

Zola Suite's Email integration allows you to connect an existing email account to Zola Suite to help you manage your day-to-day tasks in one location. Follow the steps below to get started: When you log into Zola Suite, the first page you will see is ...

Are my Email Contacts Automatically Saved to my Zola Suite Contacts?

Anyone you send email to or receive email from will be saved to the autosaved contacts list from your email provider, but they will not be saved to Zola Suite. If you'd like to save a contact for a person that sent you an email, follow the steps ...

Can I delete the auto suggested contacts in Email?

When composing or replying to an Email in Zola Suite, users will see a number of suggested Contacts in the "To," "CC," and "BCC" fields. These contacts cannot be deleted when you see them populate, but they are being suggested because they are tied ...

How Can I Connect My Email Using Modern Authentication?

If you use Modern Authentication for your Office365 account, the following steps will walk you through how to grant the Zola Suite Email Client permission to Authenticate. Doing so will allow you to keep your email sync intact even if you make ...
Status
Experiencing degraded performance in Zola Suite?