How Can I Automatically have the AR Aging Report Saved for Particular Dates?
Often times you may need to retroactively view Accounts Receivable balances as of a specific date.

At this time, the
AR Aging Summary
will only display current AR balances. While you can pull the data and save it to your records for future reference, you may not always have the ability to do so in real time.
By using the Scheduled Reports feature, you can build a history of AR balances on a daily, weekly or monthly basis.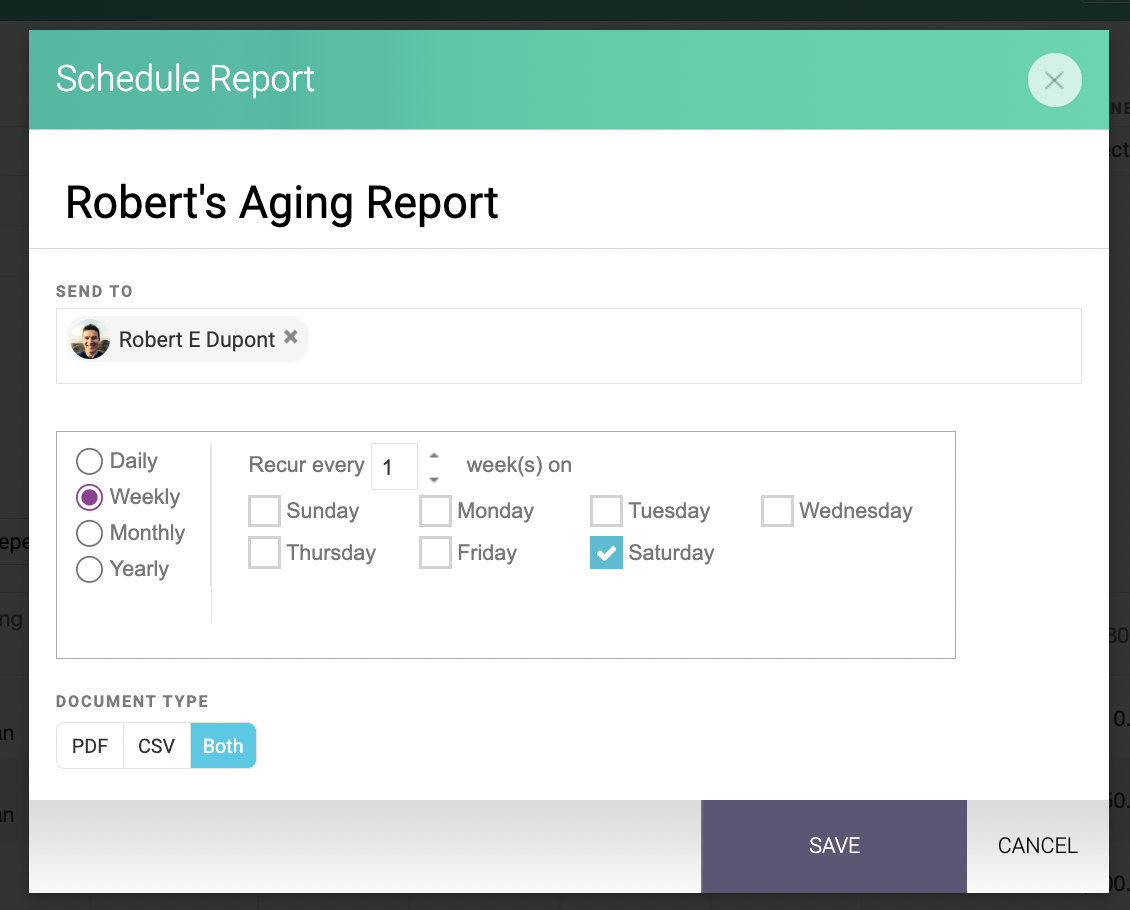 The reports can be downloaded and stored locally, in an admin Matter in Zola, or left in your email for reference.
Related Articles

How Can I Have Reports Automatically Sent Out?

Zola Suite offers Scheduled Reporting for Enterprise + subscription levels. If there is a particular report that you wish to have sent out either to yourself, or other users, you can do so by using the "Schedule Reports" button on the green toolbar ...

What is the AR Aging Summary Used For?

The AR Aging Summary provides a total amount of unpaid invoices grouped by client, matter, and various levels of delinquency. This report can be filtered by client, matter, responsible, originating or billing attorney, matter status, and ...

What Reports Does CARET Legal Offer?

Are you looking to run reports based on the information you have entered into CARET Legal? If you go to the Accounting section you will notice the tab labeled Reports. They are broken down into the following sections: Client Reports AR Aging Summary ...

What is Zola Suite's WIP/AR Trust Report?

The WIP/AR Trust Report in Zola Suite is extremely comprehensive and useful when allocating funds from Trust or an Operating Retainer, but it also serves as an excellent tool to get a detailed look at each of your Matters from a financial ...

How Can I Create Custom Accounting Reports

With over 6 advanced reports, CARET Legal offers robust financial analytics that inform critical decisions within your firm. However, firms often need a more substantial data set to guide their business strategy. That's where custom reporting from ...
Status
Experiencing degraded performance in CARET Legal?