How can I Duplicate Contact Information?
Often times you may need to add a new Contact with the same information as an existing Contact. Instead of manually copying and pasting their details, including phone numbers, email, and addresses, you can simply close the existing Contact and make any changes you need to from the new one.

To duplicate a Contact, go to the main
Contact section
and click on the three vertical dots to the right of the contact card.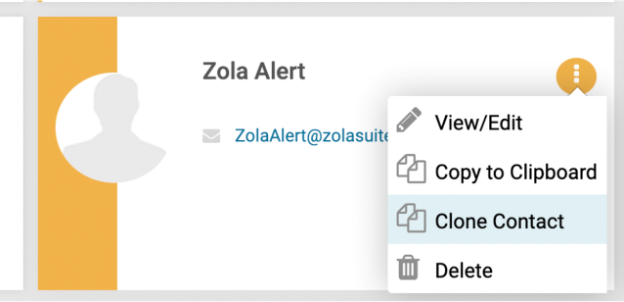 Select "Clone Contact."

This will create an exact duplicate of the Contact which can be edited based on your needs.


Contacts will be duplicated based on the information in the original. A Person Contact can not be duplicated into a Company, and a Company can not be changed to a Person.
Related Articles

How Can I Copy Contact Information with One Click?

Zola Suite offers a feature to copy all contact information to your clipboard in text format. The contact information will include the name, address, and phone number. You can find the copy feature by going to the contacts section, clicking on the ...

Copy Contact Information With One Click

Say you wanted to provide a contact list for the title agent who is conducting your real estate closing. Did you know that you can copy contact information onto a clipboard from the Contact section? It's a snap, go to the contacts section from the ...

Are my Email Contacts Automatically Saved to my Zola Suite Contacts?

Anyone you send email to or receive email from will be saved to the autosaved contacts list from your email provider, but they will not be saved to Zola Suite. If you'd like to save a contact for a person that sent you an email, follow the steps ...

How Do I Remove a Contact From a Matter?

You can remove a Contact from a Matter in the Contacts tab of that specific Matter. As seen below, select the menu button of the Contact and click Remove from Matter.

Can I Edit Contact Tags?

Zola Suite offers Contact Tags to help organize and give your Contacts some extra context. This feature is great for exporting a Contact list out of Zola for mail merge purposes- but how do you edit the tags that are already in Zola? In Firm ...
Status
Experiencing degraded performance in CARET Legal?