Zola Suite offers Scheduled Reporting for Enterprise + subscription levels.

If there is a particular report that you wish to have sent out either to yourself, or other users, you can do so by using the "Schedule Reports" button on the green toolbar within that given report.


Before you schedule the report, first select any filters that you wish to maintain as part of the report that gets sent out.


The Date Filter is particularly important. Be sure to pick a preselected range, such as "Last Month" or "Year to Date."

Choosing a custom date range will always be defined by those specific dates.
After selecting choosing the filters, click on "Schedule Reports" --> "Schedule New Report."

You will be asked to:

1) Create a name for this report.

Clearly define the name here so you can easily recognize what this report is for since you can set up multiple occurrences of this report using any filters, dates and recipients that you want.

2) Select the User(s) that should receive a copy of the report via email.

This is particularly helpful if you have users that do not have accounting permissions but still need to access certain information.

Ex: An Attorney is set up as "Staff" but needs a copy of the Aging Summary for all of their clients. Filter the SR Aging Summary for them as the Responsible Attorney, then schedule it to go to them. That user will receive the report directly to their email address without needing access to the Accounting module.

3) Set up the schedule that the the report should be sent out on.

The report will be triggered to get emailed automatically based on these settings.

4) Select if the report should be attached as a CSV file, PDF file, or both.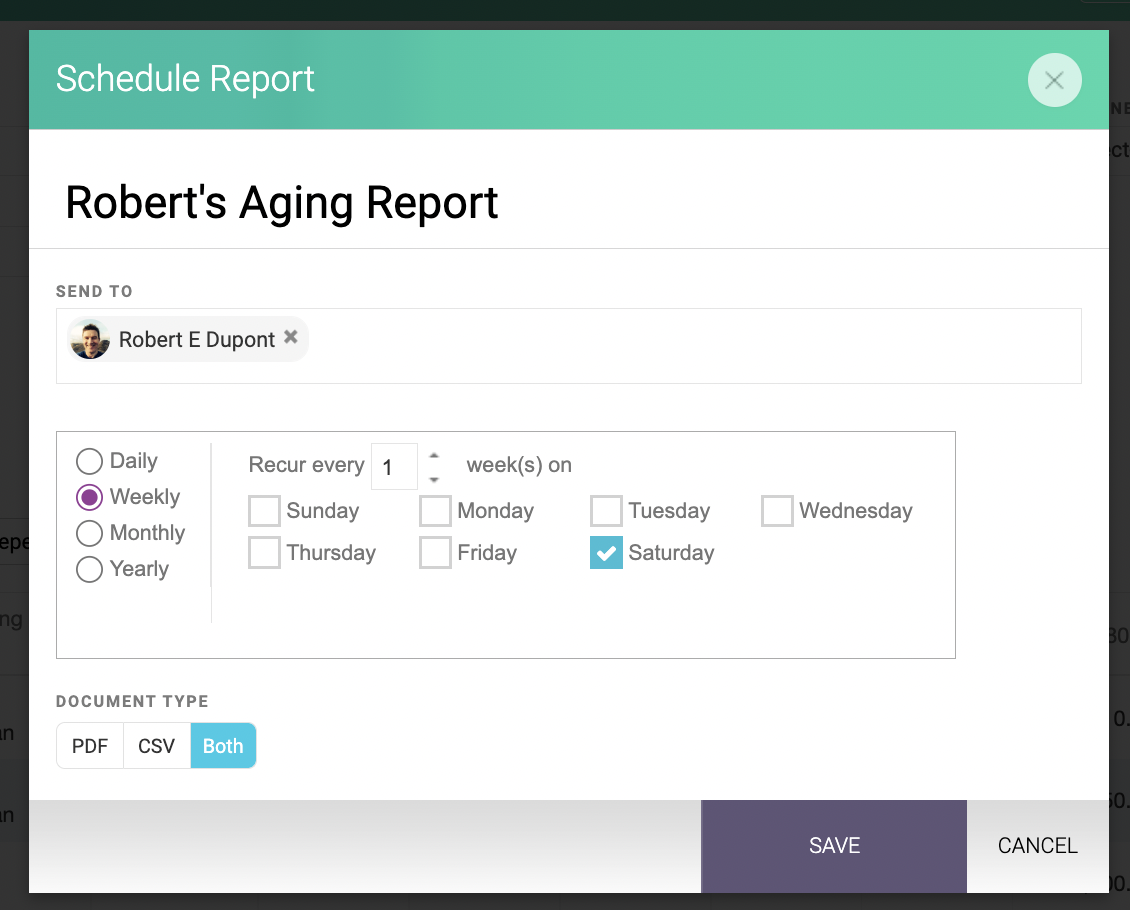 The following reports have scheduling available:

AR Aging Summary

Client Payments

Timekeeper Productivity

Billed and Collected

Profit and Loss

Balance Sheet

WIP AR Trust Report