How Can I See Future Time Entries?
While Zola Suite allows you to create future time entries via Calendar Events or by manually editing the date, we only allow you to bill for work that has already been done.

The time list and unbilled activity page will automatically filter entries through today's date.
If you know, or think there may be, time entries with future dates, you can locate and edit them from the
time list
by using the Advanced Search filters.
1) Click on the green arrow to the right of the search bar.


2) Select the Date dropdown and click on "Show All."


While the filter already says "Show All" this will only show everything up to today. You will need to click on it to override the default view.

3) Click on Search.

You will now see any time entries that have future dates.


You may notice that there are uninvoiced fees or expenses in the matter stats, but you do not see then when checking the time list on the matter level.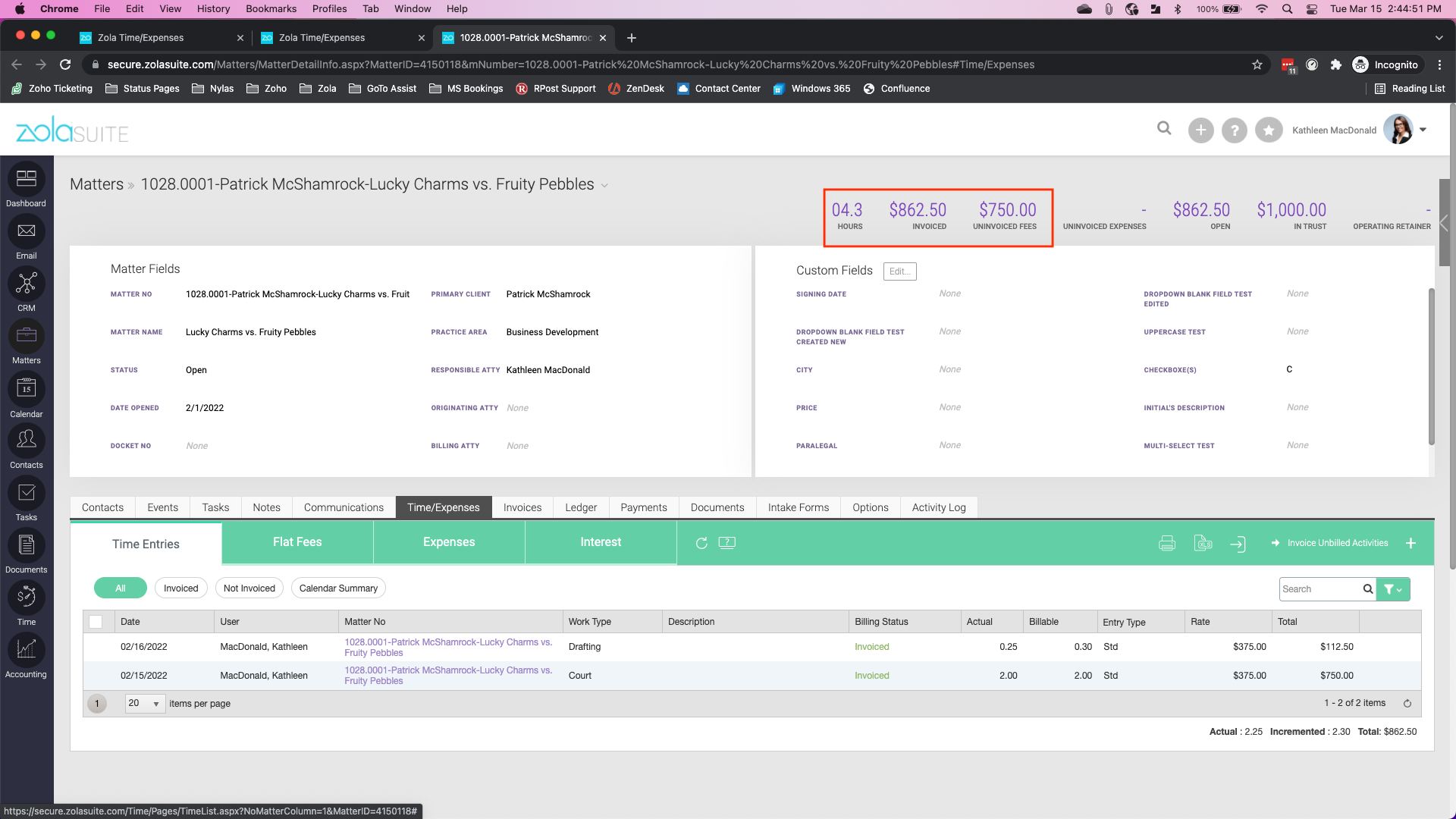 This is an indication that there are future time entries not readily visible.
Related Articles

Can I Edit or Delete Invoiced Time Entries?

Zola Suite allows you to generate invoices from existing Time Entries and Expenses, which are considered "Unbilled Activity." Once the bill is created from that activity, the status will be marked as "Invoiced," and you will no longer see the edit or ...

How Do I Invoice Unbilled Activities?

You can invoice unbilled any of your time entries and expenses in the Accounting section. In the Invoice page, click the + button on the green bar and select "Invoice Unbilled Activities". This will bring you to a page that shows all unbilled time ...

How Do You Filter Time Entries by User?

If you are looking to see all Time Entries entered by a specific user you can do so by using the Advanced Search in the Time section. You can also utilize the other filters to make your search even more granular. To use the Advanced Search: Go to the ...

How Do I Set up Invoice Administrative Fees/Auto Charge a Percentage of Fees?

If your firm needs to automatically invoice certain clients for disbursements based on a percentage rate of fees, Zola Suite features an "Administrative Fee" option to facilitate that. This option can be enabled by default under Firm Settings and ...

How Do I Print All Time Entries for a Matter?

You are able to print out all Time Entries for a Matter and use the advanced search to narrow down your results. Zola Suite offers two ways of printing. You can do this using the Export function which downloads the data into CSV format and Print to ...
Status
Experiencing degraded performance in CARET Legal?