How Can I Use Contact Tags?
Zola Suite includes a tagging feature that can be used to help categorize and search for Contacts. This feature can be used within the contacts section to create and export contact lists.
A tag is a self-building library of keywords that the system will remember and allow you to use over and over.
To add a new tag, open a new or existing Contact card and type in the word you wish to use as a tag. After typing the full word in be sure to hit enter so the tag sticks.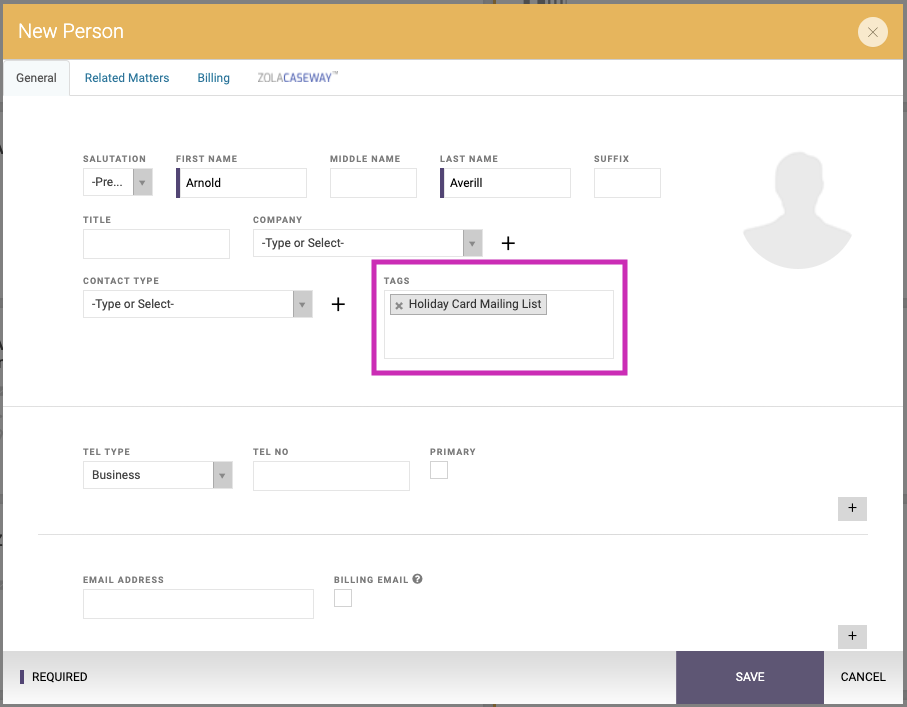 If you already have a tag you want to use, simply select it from the dropdown. You can begin to type the word to pull it up more quickly.
Tags can be used to filter your contact list by opening the Advanced Search bar and selecting one or more tags.

You can then export the results of your search to an excel spreadsheet or a pdf print out.
Related Articles

How Do I Use Tags or Keywords to Search in Matters and Contacts?

You can add searchable keywords or tags to assist in searching through Matters and Contacts. If you have a Matter or Contact with a similar name or you want to be able to search for specific keywords that are not in the Matter name then you will want ...

Can I Edit Contact Tags?

Zola Suite offers Contact Tags to help organize and give your Contacts some extra context. This feature is great for exporting a Contact list out of Zola for mail merge purposes- but how do you edit the tags that are already in Zola? In Firm ...

How Do I Add a Rate Card to a Contact?

If you have a client that has or will have multiple Matters you can select a Rate Card for them and all new Matters will automatically pull these rates. To add a Rate Card to a Contact: Select the contact you would like to assign a Rate Card Click on ...

How Can I Copy Contact Information with One Click?

Zola Suite offers a feature to copy all contact information to your clipboard in text format. The contact information will include the name, address, and phone number. You can find the copy feature by going to the contacts section, clicking on the ...

How can I Duplicate Contact Information?

Often times you may need to add a new Contact with the same information as an existing Contact. Instead of manually copying and pasting their details, including phone numbers, email, and addresses, you can simply close the existing Contact and make ...
Status
Experiencing degraded performance in CARET Legal?