How Do I Assign a Task to a Matter?
When you are creating or editing a
Task
you have the ability to assign the Task to a specific Matter.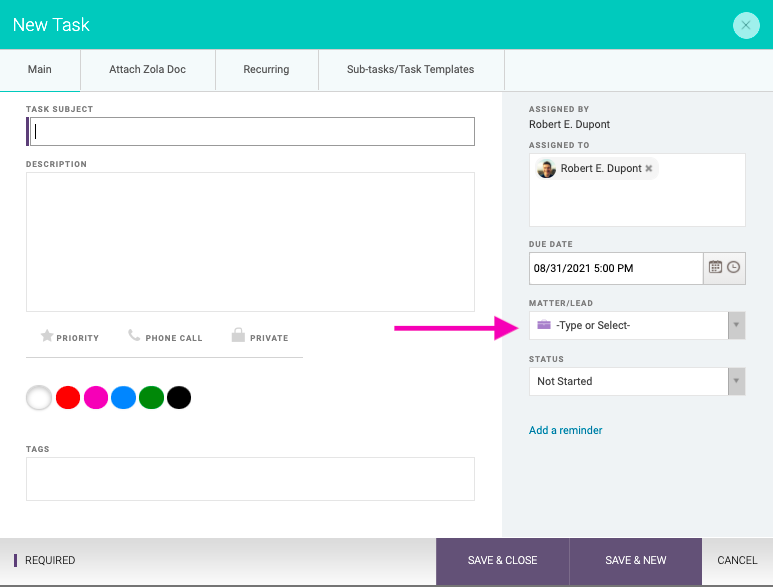 If you click on the drop-down list under Matters, you will be able to select the Matter and upon Save, you will see the task in the Task tab in that Matter, and see the Matter in your Task list.
Related Articles

What Is the Difference Between a Task and an Event?

Within each matter, you will find separate sections (or tabs) for both Tasks and Events. To properly utilize all of the features, it's important that you understand the differences between the two. Simply explained, an Event is a one-time event. This ...

How Do I Assign Emails Directly to a Matter?

Zola Suite offers you the ability to associate and store Matter-Related emails in a dedicated Communications Tab within each respective Matter. You can then Reply, Reply All, Forward, Print, and Delete these emails right from the Matter. Follow these ...

What Are Sub-Tasks?

Certain tasks, like filing a bankruptcy petition or preparing a contract for the sale of a home, have a number of steps which must be completed. Subtasks allow you to break up a parent task into more granular steps. As you complete the subtasks you ...

When I Create a New Task, I See I Can Choose a Color for It. What Is This for?

The colors are simply for organization or priority. Choosing one of these colors will add a vertical stripe of that color to the left of the task in the list view. This allows you to be able to differentiate certain tasks from others as well as ...

How Do I Edit an Existing Task?

Editing existing Tasks in Zola Suite can be done using the following steps: Navigate to the Task Section, either on the Dashboard or from the left side navigation bar. Click on the Pencil Icon to the right of the Task to edit.
Status
Experiencing degraded performance in Zola Suite?