How Do I Create a New Calendar Event?
Creating a new Calendar event can be done in two ways in Zola Suite.
They can be quickly added from any section of Zola through the

Quick Add

feature on the top bar: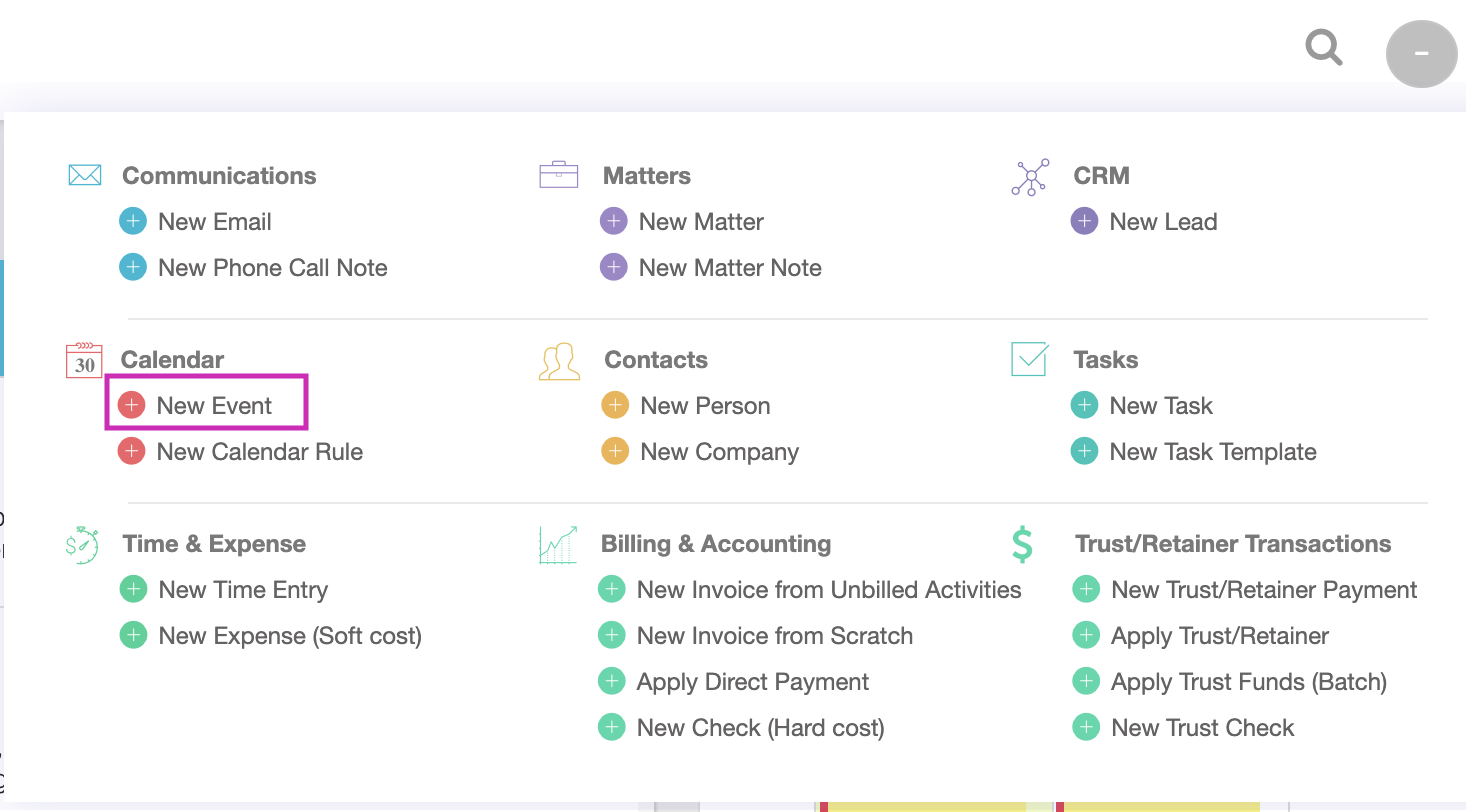 2.
Directly on the Calendar section of Zola Suite:
In the New Event modal, fill out all of the required information, along any additional information you have. Please note that any field marked with a purple line is required for the Event to be created.


Once you click on Save, the Event will show in your Calendar.
Related Articles

How Do I Create Calendar Rules?

You can create automated Calendar Events based on the rules calculated within LawToolBox. You can also choose a default set of Reminders for all Events created from LawToolBox. In order to set up these Events, go to the Calendar, and select the Plus ...

How Do I Change the Names and Colors of Event Categories on My Calendar?

If you would like to change or create new Event Categories for Calendars you can! You can also change the colors to keep yourself more organized! Go to your account's Firm Settings. In the Event Categories section, you can add new event categories or ...

How Can I Edit The Privacy Status of an Event?

When an event is designated as a "private event", your colleagues will be able to see that you have an appointment but the corresponding details will not be visible. When an event is made private, you will also have the option to select an ...

How Can I Change a Date Created through a Calendar Rule?

If you create Events and deadlines using Zola Suite's integration with LawToolbox, you may need to update it or change the series at some point. Here are some tips on different ways you can edit your Events. 1) Changing an individual Event or ...

Adding Firm Attendees On Calendar Events

When it comes to creating a calendar Event that multiple Zola Suite users will be attending, there is no need to invite them as an attendee via email. Each Zola Suite user has their own unique Calendar, where they can add Events for themselves, or ...
Status
Experiencing degraded performance in CARET Legal?