How Do I Generate an Amount for Trust Replenishment on a Client's Invoice?
If your firm requires that clients maintain a specific
trust balance
, the "Required Trust Balance" can be configured to incorporate that number into the client's invoice balance.
Under the Matter Options tab, you will find the "Required Trust Balance" field.





When populated, on the invoice pdf, a Trust Retainer Replenishment total will appear in the Statement of Account Summary, letting clients know the replenishment amount that will need to be made.




Please note: While the required Trust Balance will display as part of the clients's Total Amount Outstanding on the Statement of Account Summary, it will not be part of this invoice's AR balance. Clients cannot
pay a retainer online
through Caseway or via a direct payment link. The retainer will still need to be paid through the
New Retainer
module.

In order for the Retainer Replenishment to display on your invoices, you must have "Statement of Account Summary" made visible in your
Invoice Customization
settings.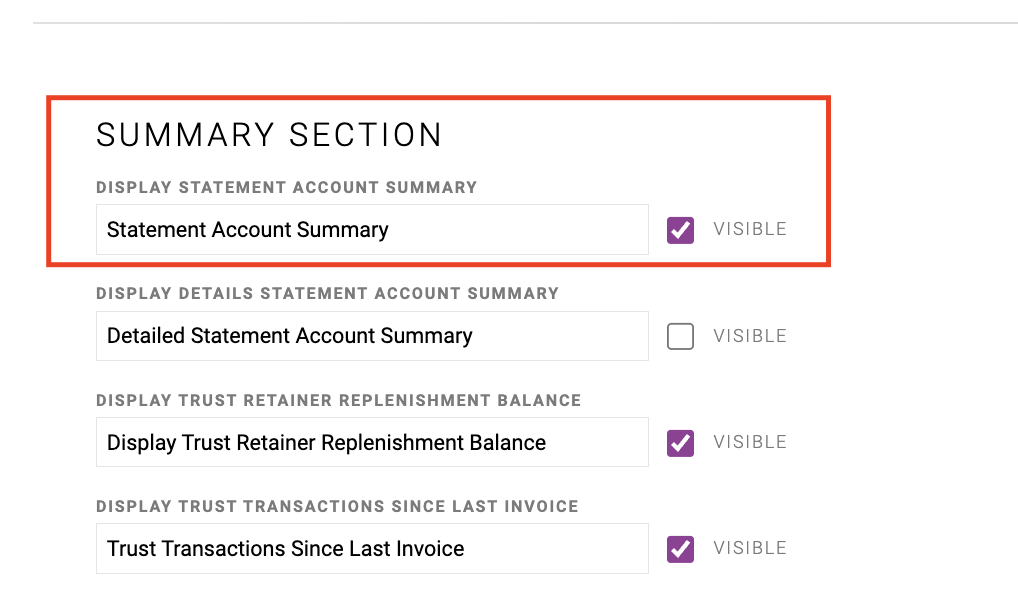 Related Articles

How Do I Apply a Retainer to Invoice(s)?

With "Apply Retainer" you are able to apply multiple payments from a specific bank account (that were entered in as new retainers) to multiple invoices from a specific matter Go to the Accounting section, click the "+" on the green action bar ...

How Do I Create a Retainer Request in Zola Suite?

If you need to request funds from your client for a retainer, we recommend creating a Retainer Request using Zola Suite's Document Automation. This can also be done to create Retainer Replenishment requests. First, go to a thoroughly populated Matter ...

How Do I Record a New Retainer?

When taking in any kind of advanced client payment, retainer or recording a deposit to the Trust account you will want to enter it as a New Trust/Retainer Payment. You can also create a retainer with a credit card via APX . Go to Accounting section ...

Can a Client Pay a Retainer Through Caseway?

At this time, clients can only submit direct payments to existing invoices through our client portal, Caseway. We do not recommend invoicing retainer fees because this will affect your P&L. You can always send a document reflecting the need for a ...

How Do I Refund a Retainer?

If you have leftover funds within a client's matter or if they overpaid, you can refund their retainers. Operating retainers can be done within the Invoices and Payments section by clicking on the +, while Trust retainers must be refunded by creating ...
Status
Experiencing degraded performance in CARET Legal?