How do I refund a client's payment using APX?
When you process a client payment that was made through APX, that payment can easily be refunded right in Zola Suite.

To create the refund, you will first need to go to the main accounting sections and select
Banks and Registers
. Select the account the payment was deposited to and locate the transaction.
Every transaction will have a pencil icon located to the right. Clicking on the pencil will allow you to edit the deposit details.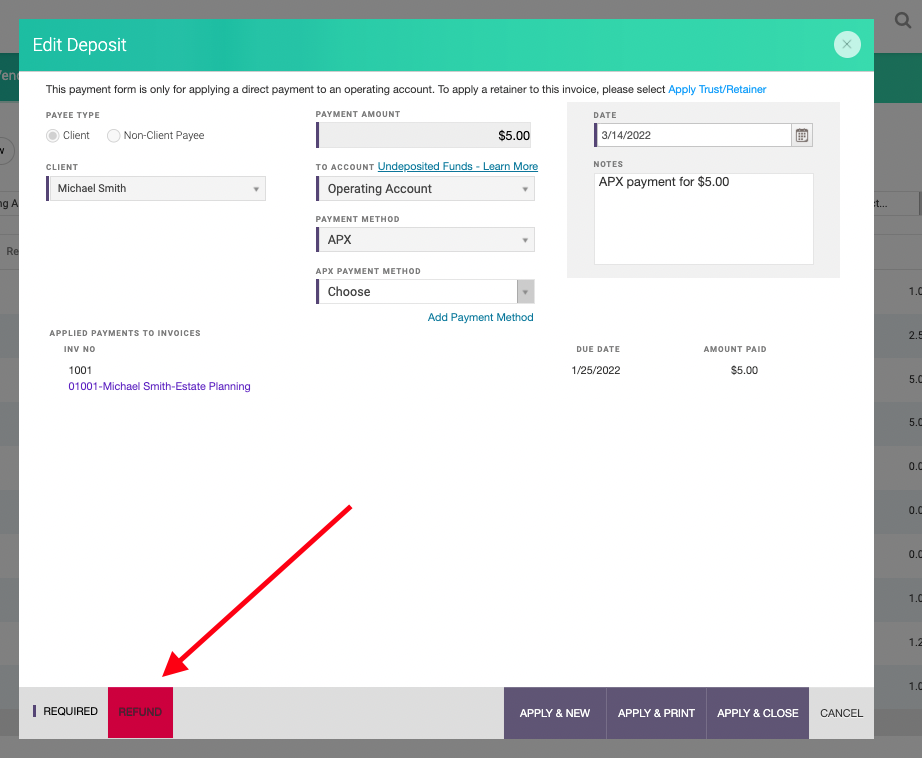 Click on the "Refund" button on the bottom left side of the deposit details screen.

This will initiate the refund to the client.


There are no fees associated with Refunds.

Deleting the payment will not refund the payment!
Related Articles

How Do I Refund LawPay Payments?

If a client makes a payment in error through Zola Suite's LawPay integration, you must take the following two steps: Remove the payment from the invoice where payment was made in error. Log into your LawPay account directly and initiate the refund. ...

How do I process a payment using APX in Zola Suite?

Once you have successfully signed up with APX, and your accounts have been verified, you will be able to start processing payments. You can apply payments directly to invoices or create retainers in Zola Suite, in addition to sharing invoices with ...

What is APX?

Abacus Payment Exchange (APX) is an integrated payment solution that uses a single platform to process Credit Card and ACH payments within Zola Suite so that you get paid as quickly as your bank allows! It also makes payments easy for your ...

APX Onboarding

Applying for APX Anyone with Administrator rights can apply for APX. 1. In Zola Suite, Go to Firm Settings, under Billing & Accounting click on APX Integration, click on Create APX Account. 2. The APX window opens. Click SIGN UP FOR FREE. ​ 3. Enter ...

What is LawPay?

LawPay allows you to process client payments safely and securely, while staying compliant with your local bar association by keeping funds separated in trust and operating accounts. They directly work with more than 90 bar associations (including the ...
Status
Experiencing degraded performance in Zola Suite?