How Do I Set Up Bulk Billing?
Once that is complete, you will need to verify your domain. To do so please follow these steps:
Go To Your DNS Provider





Go to the DNS provider that you use to manage yourdomain.com and add the following DNS records. Common providers include GoDaddy, NameCheap, Network Solutions, Rackspace Email & Apps, Rackspace Cloud DNS, Amazon Route 53, and Digital Ocean.





Add DNS Records For Sending





TXT records (known as SPF & DKIM) are required to send and receive an email with Mailgun.





| | | |
| --- | --- | --- |
| | | |
| | | v=spf1 include:mailgun.org ~all |
| | [key]._domainkey.[yourdomain] | Please contact Support for this information |




If GoDaddy (applicable for some other providers, as well), the second TXT Hostname does not need to have the domain included. For example - in screenshot below, only "mailo._domainkey" would need to be added.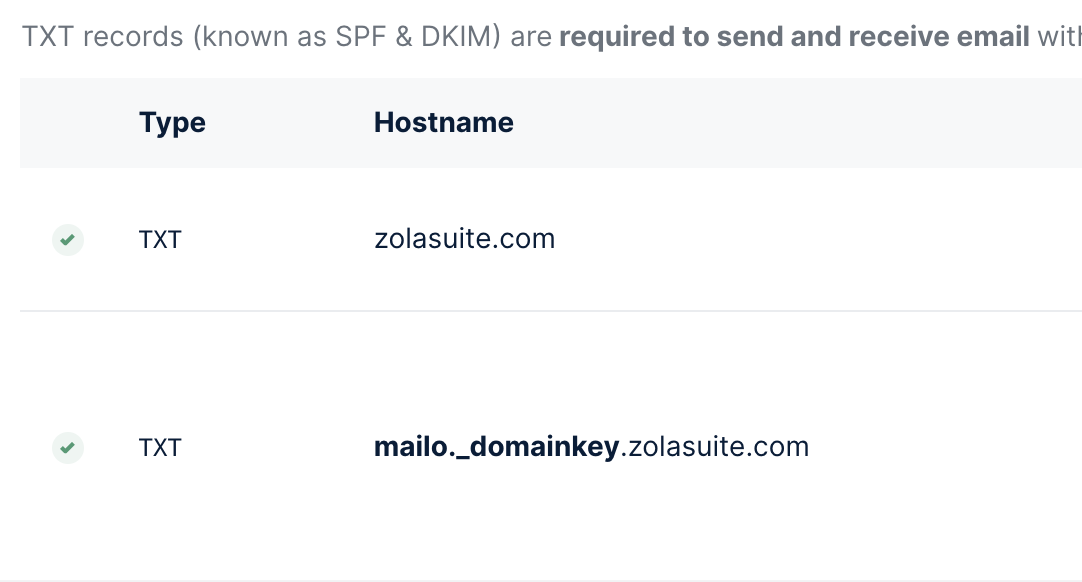 The CNAME record is necessary for tracking opens, clicks, and unsubscribes.





| | | |
| --- | --- | --- |
| Type | Hostname | Enter This Value |
| CNAME | email.[yourdomain] | mailgun.org |




Wait For Your Domain To Verify



Once you make the above DNS changes it can take 24-­48 hrs for those changes to propagate. We will email you to let you know once your domain is verified.



Now you are able to

use bulk billing within Zola Suite.

Related Articles

How Do I Use Bulk Billing?

Before you continue make sure that the bulk billing setup has been completed. Please make sure that the billing preference for both the primary client's contact and the Matter option is set to Email PDF Matter: Contact: Go to the Accounting section ...

What is the Bulk Billing Center and How Do I Use It?

The Bulk Billing Center allows you to automatically print or blast email all of your clients whose billing preference is set to Email PDF with their respective invoices or statements of account. These emails with the invoices attached will be sent ...

Can I Set a Starting Invoice Number?

If you want to set a specific invoice starting number or deleted an invoice and want to use that same number again, you can do so within Zola Suite! Go into the Firm Settings of your account. In Billing & Accounting Options you can set your starting ...

How do I send reminders to clients that have outstanding balances?

Inevitably you will find that you have clients with past due balances that may need a gentle reminder of what they owe you. If you are still working on their matter, this outstanding balance can be displayed on their recent invoices by enabling ...

Can I Set a Default Due Date for Invoices?

If you have a standard amount of time that all of your invoices need to be paid by, you can set that up within Zola Suite for all invoices. This can also be changed on an invoices basis for edge cases. To set up a default due date: Due dates for ...
Status
Experiencing degraded performance in CARET Legal?