How Do I Add Group Permissions for Matters?
Do you have
Matters and Practice Areas that only a group of users require access to?
Not everyone at the firm needs access to a certain practice area and the Matters related to them? Now you have the ability to create groups for permissions. This article will show you how to create the groups and also set your Matters up correctly. i.e. if you have a Trademark Matters you can create a group for your trademark team and their group to the Matter(s) and any others that may need permission such as an administrator.

These groups and permissions can only be created if you have administrative permissions and access to Firm Settings.

To create the user groups:

Go to your Firm Settings. This is located to the top right of the static panel - click on the the down arrow next to and then select Firm Settings.



Go to the User & Group tab and then select the Groups tab.






Once you click on the "+" button a new window will come up where you can add a Group. You will need to create new group name, and then add the users to the group. You can add the users by the dropdown and typing the name of the user. Once you have found the user click on the "+" next to their name and then add any other users you will need to. Once the group has all the users that you would like to include click on the save button.






You can now utilize this group in any matter of your liking. To add this group to a Matter you will go to the "Options" tab of that Matter. Here you will see the "Set Permissions for This Matter..." box. Click this and select the "Custom" option to type in the group name in the Users text box.


You can add as many groups that you would like to the permission level. Using this feature you will be able to ensure that those that need access, have access to the Matters and those that do not need to see it do not.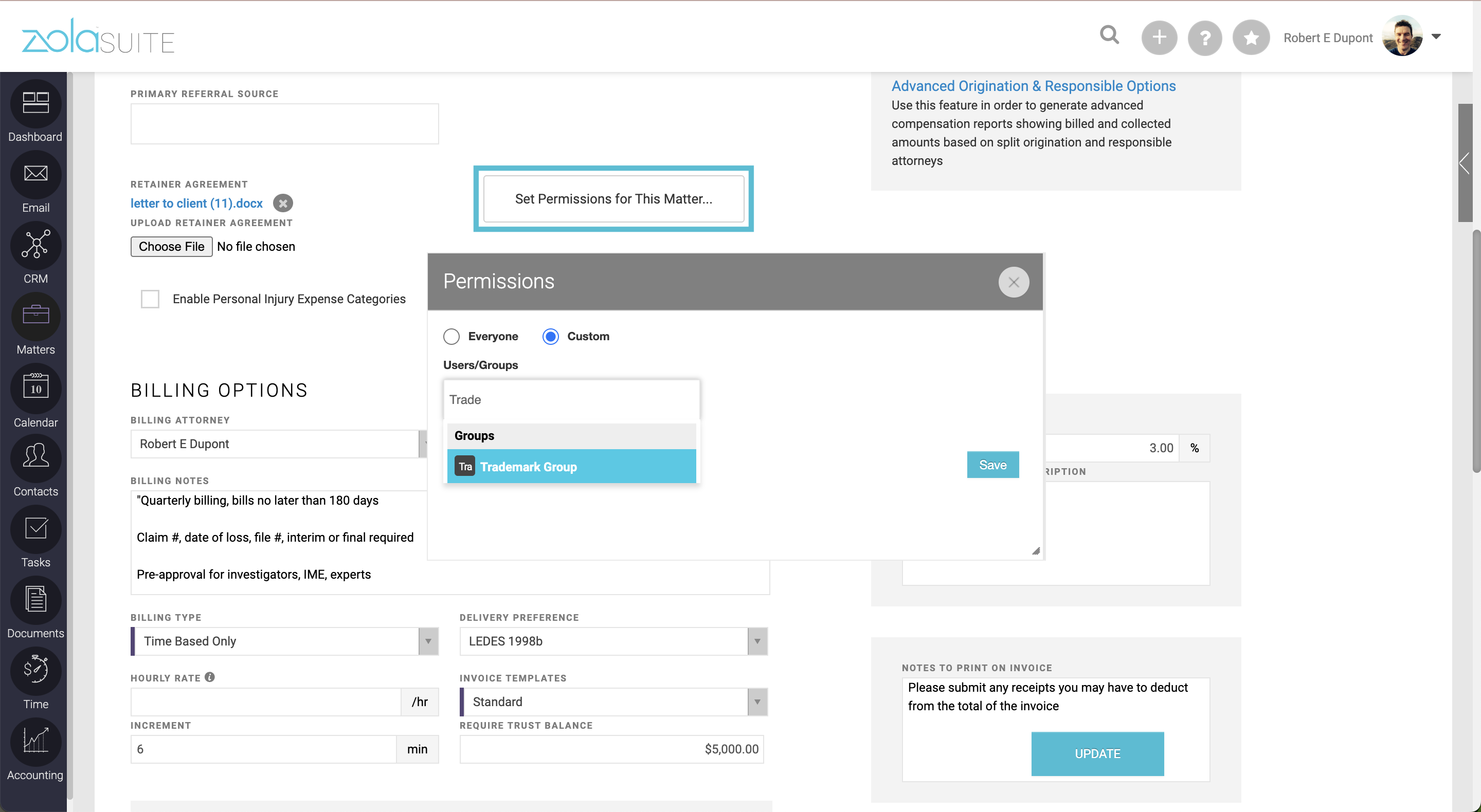 Related Articles

User Permission Level Management

Firm Administrators can determine how much access each user has within the program based on the Permission Level they are assigned. The Permission Level must be chosen at the time the user is created/invited, however administrators can change the ...

How Do I Edit Permission Levels?

If you have Administrative permissions in Zola Suite, you are able to edit the permission levels of users in your account. You can restrict or expand what the users are able to view. To do so: Go to Firm Settings and select Users Click on the pencil ...

How do I View Other Users' Events?

Zola Suite's Calendar allows you to view Events scheduled for yourself, as well as for other users at your Firm. You have the ability to choose which users you would like follow, so you can automatically see their Calendar from both the main Calendar ...

What are Billing Groups and how do I use them?

There may be situations where you will need to categorize or filter matters for billing purposes that we do not have default data fields for. In these instances, you can make use of "Billing Groups" to establish custom filters when generating ...

What is a Firm Collaborator?

Through the Firm Collaborators feature, you can assign additional users to a matter. A collaborator may be another attorney, staff, billing or intake person, docketing manager, or legal assistant/paralegal. To add a Firm Collaborator, navigate to the ...
Status
Experiencing degraded performance in CARET Legal?