How do I use Firm Budgeting?
Zola Suite's Firm Budgeting will allow you to create many budgets, specifying a budget figure for any applicable Profit & Loss accounts. These budgets can then be selected on the Profit & Loss Report, comparing them to the actuals and displaying the differences.
To create a new budget, navigate to the Reports tab within the Accounting section > Click Firm Budgeting.

Select the + icon on the far right of the budget list to create a new budget.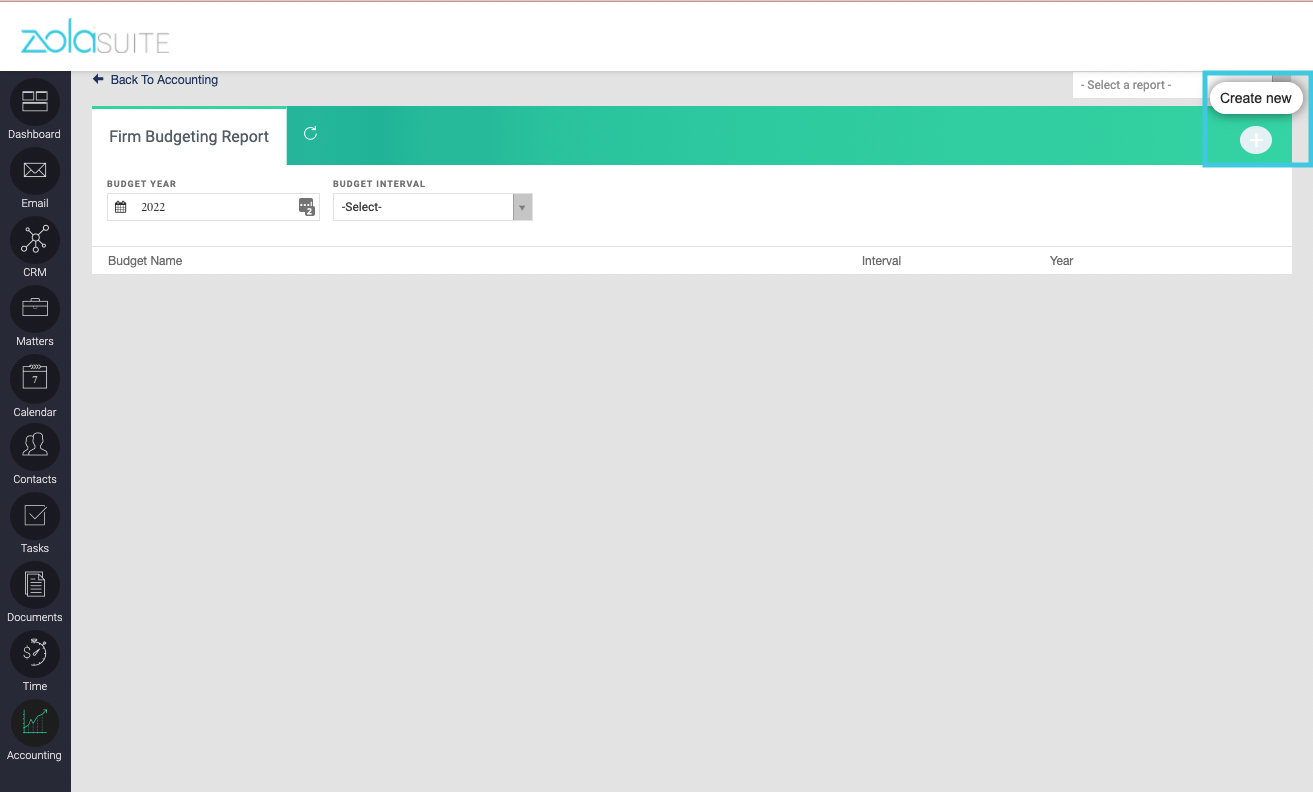 Budgets can be created by Month, Quarter, or Year. Additionally, multiple budgets can be created for the same interval.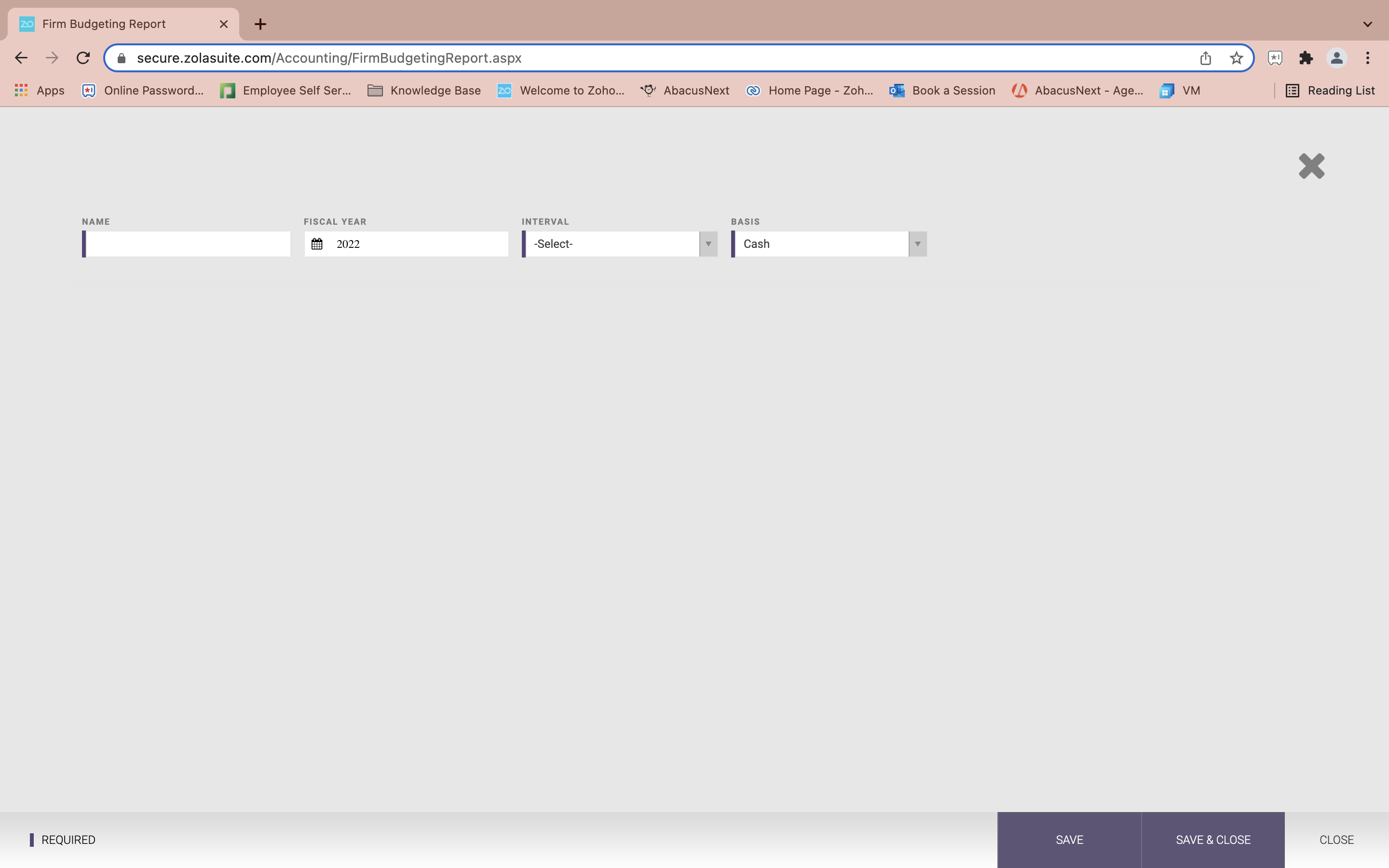 The Profit and Loss report utilizes the budgets dropdown to overlay the budgeted figures with the current view.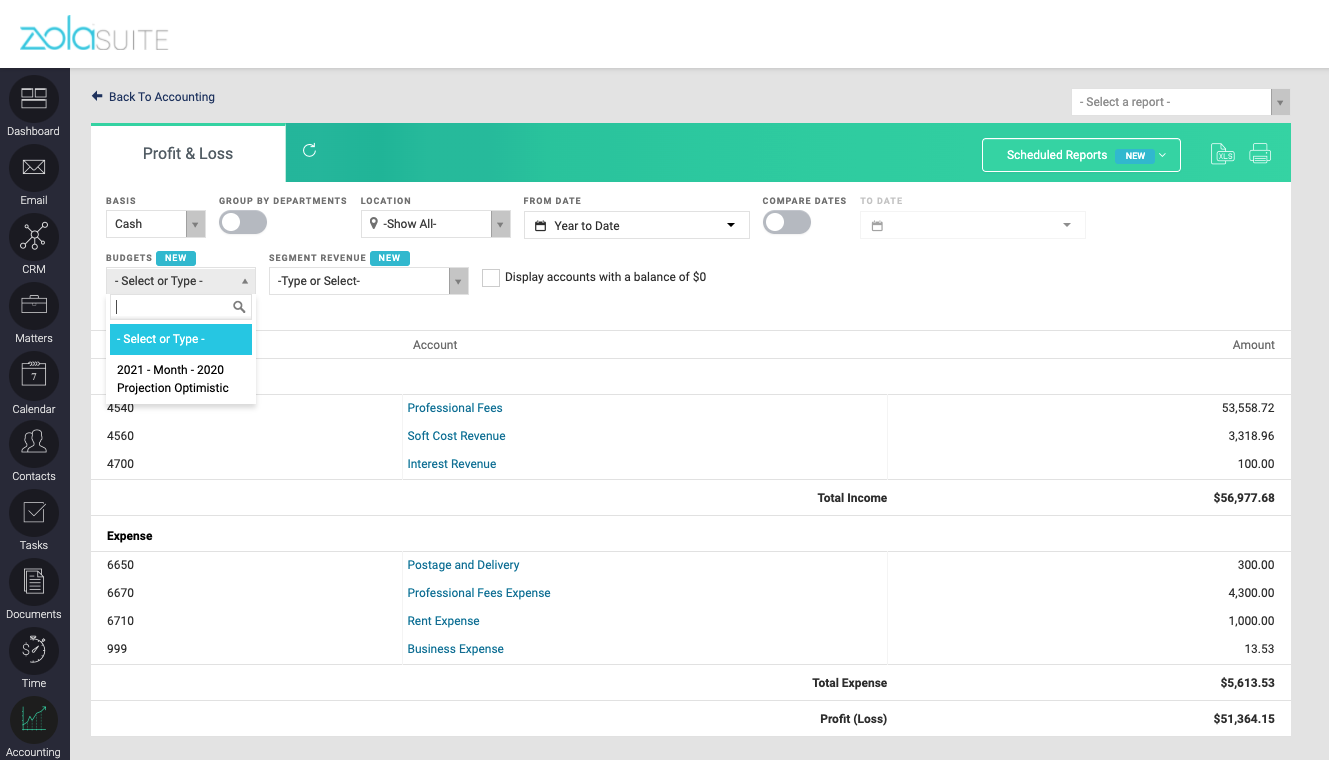 Related Articles

How Do I Use LEDES Task Code Budgeting in Zola Suite?

When working with LEDES files in Zola Suite, there is a simple way to keep tabs on Task Budgets so you can calculate the sum of total activity by Activity Codes. Follow the steps below! First, be sure to go to the Options tab within the matter where ...

Adding Firm Attendees On Calendar Events

When it comes to creating a calendar Event that multiple Zola Suite users will be attending, there is no need to invite them as an attendee via email. Each Zola Suite user has their own unique Calendar, where they can add Events for themselves, or ...

What is a Firm Collaborator?

Through the Firm Collaborators feature, you can assign additional users to a matter. A collaborator may be another attorney, staff, billing or intake person, docketing manager, or legal assistant/paralegal. To add a Firm Collaborator, navigate to the ...

What is the difference between My Settings and Firm Settings?

​My Settings gives you access to your personal settings such as User Profile settings, Email Account settings and Password settings. Firm Settings is for administrator use and allows customization of the firm's Zola account. Users with access to ...

How Do I Use Advanced Originations?

Does your firm have more than one Responsible Attorney per Matter, or you wish to split Originations between multiple attorneys? If so, Zola Suite Offers the ability to calculate advanced origination rates and percentages within any given Matter. ...
Status
Experiencing degraded performance in CARET Legal?