How Do I Use RMail in Zola Suite?
Type your email as you normally would and instead of clicking "

Send

," click the option to "

Send Registered

."

This will open a window where you can choose which options you'd like to use.




Track & Prove

- Proves email delivery status, the time it was delivered, and the email content. Serves as legal proof of compliance.




Encrypt

- Uses 256-bit AES encryption to deliver your email without forcing the recipient to create an account or leave their inbox.




E-Sign

- Converts your document to a ready-to-print PDF that the recipient can sign.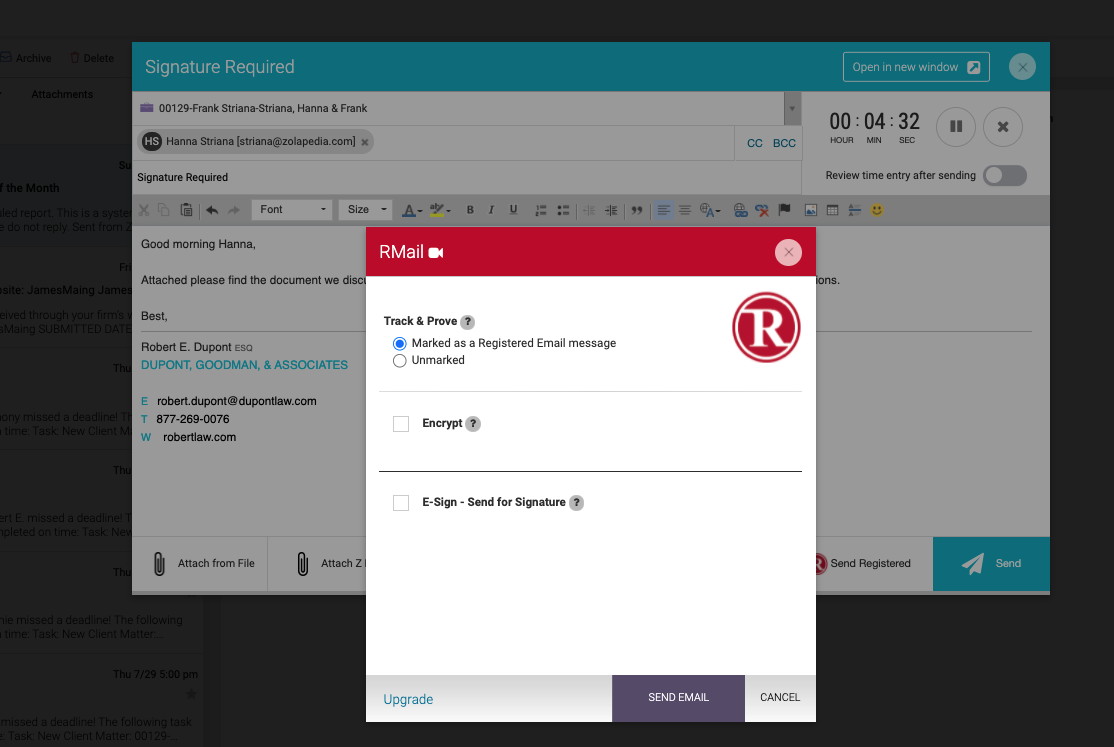 Once you have selected which option(s) you'd like to use, click "

Send Email

." If applicable, the email will be saved to the Matter's Communications tab.



Related Articles

What is an Encrypted Email?

Email encryption is a process that disguises the content of email messages to protect its contents from being read by anyone other than the intended recipients. RMail uses 256-bit AES encryption and provides options for secure end-to-end delivery. If ...

How Do I Get Started With RMail?

Registering for RMail can be done directly in Zola Suite. The first time you click "Send Registered" in the New Email window you will be prompted to create an account. You will need to fill this out even if you already have an account with RMail - ...

Can I Send an Email in a Secure Fashion?

You can send a confidential message using RMail encryption technology available to you directly on the email page without leaving Zola Suite environment. Click here for instructions Whenever you send any email message using the RMail/Zola Suite ...

How Do I Delete An Email In Zola Suite?

Deleting Emails in your Zola Suite Email Client is simple! Follow the steps below. First, open the Zola Suite Email Client and locate the email you wish to delete. Next, either locate the trash can icon by hovering over the email in your inbox, or ...

Does RMail Offer Discounts?

CARET Legal users have the option to subscribe to RMail directly through our interface, and received discounted packages. In order to subscribe, click on the "Upgrade" option in the RMail window If you wish to purchase more emails, you can sign up ...
Status
Experiencing degraded performance in CARET Legal?