How Does Zola Suite Handle Phone Calls to be Returned?
Anytime you have a phone call that needs to be returned, it would be considered a task to a Zola Suite user.
A classic example would be an instance where a call comes in and the lawyer is unavailable so the secretary or paralegal takes down the caller's information so that the lawyer can return their call.

The Zola Suite method:
The message or reminder to get back to the caller would be recorded by the secretary as a task assigned to the lawyer with the message in the description field. The Secretary would also be able to set reminders for the lawyer and alerts for himself/herself to follow up. Once the call is returned the lawyer would be able to
record his/her phone call as a communications entry to that matter
.
When creating a phone call related note, be sure to select the "Phone Call" option below the description box. See below: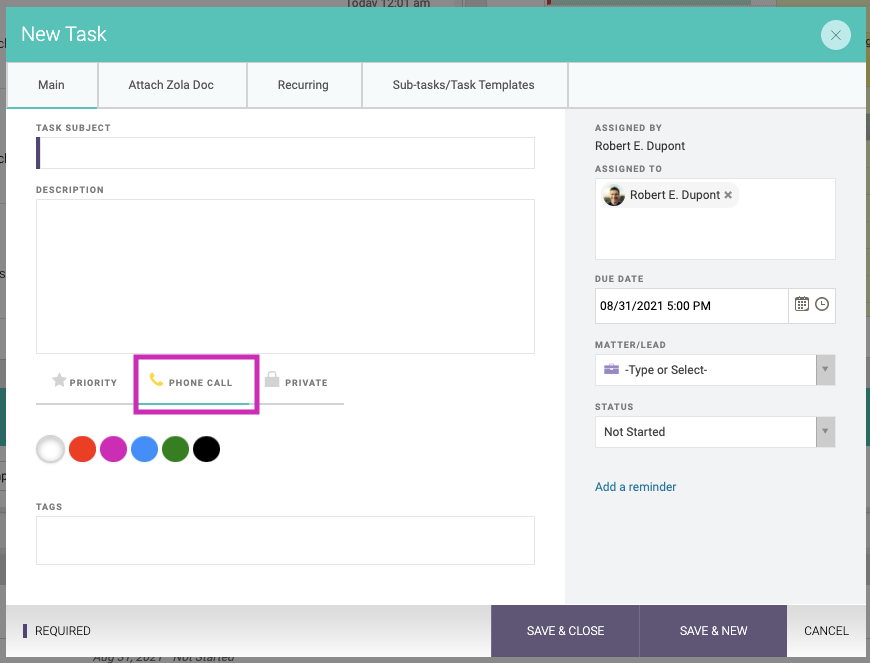 Related Articles

How Do I Record a Phone Call in Zola Suite?

The phone call feature will allow you to record notes about your phone call and store it in your matter communications. You can do this one of two ways. From Quick Add menu Click on the "+" from the Quick Add menu Select "New Phone Call Note" From ...

Zola Suite Support

If you are in need of any assistance or would like to submit feedback please contact our support team General Support Submit a Ticket from Zola Suite (Recommended) Submitting a ticket through the interface by clicking on the "?" icon in the top right ...

How Do I Install the Zola CRM Web Form on My Wordpress Website?

Zola CRM will allow you to manage your leads. One way that leads can enter your funnel is from your website Zola CRM has the ability to capture web form data and place it into the CRM seamlessly using Gravity Forms as the web form creator and our ...

Does Zola Suite Handle Bank Reconciliations?

If you want to ensure that all of the balances for your trust or operating accounts are accurate, you can utilize our Bank Account Reconciliation feature. This will confirm that the bank balance, book balance in Zola Suite, matches your Financial ...

Am I able to access Zola Suite on the go?

Zola Suite was made with busy lawyers in mind. Our iOS and Android Applications, are available to all of our clients. Using the Application, you can create Events, Tasks, and Time Entries right from your phone and never miss a beat.
Status
Experiencing degraded performance in CARET Legal?