How Do I Change Event Category Colors?
Every event can be added with a category filter. Each category filter has its own assigned individual color. In order to change the color of the category filter...
Go to the Firm Settings by pressing your name on the top right of the screen.

Go to the "Events and Calendar Rules" section of your firm settings and select "Event Categories"
This is where you will be able to add, edit and delete all your event categories

To edit clickthe pencil icon under the edit column.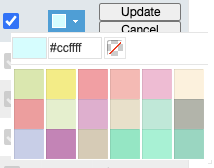 Be sure to click "Update", this will change the colors selected for that category going forward and retroactively

Related Articles

How Do I Change the Names and Colors of Event Categories on My Calendar?

If you would like to change or create new Event Categories for Calendars you can! You can also change the colors to keep yourself more organized! Go to your account's Firm Settings. In the Event Categories section, you can add new event categories or ...

How Can I Edit The Privacy Status of an Event?

When an event is designated as a "private event", your colleagues will be able to see that you have an appointment but the corresponding details will not be visible. When an event is made private, you will also have the option to select an ...

How Can I Change a Date Created through a Calendar Rule?

If you create Events and deadlines using Zola Suite's integration with LawToolbox, you may need to update it or change the series at some point. Here are some tips on different ways you can edit your Events. 1) Changing an individual Event or ...

What Is the Difference Between a Task and an Event?

Within each matter, you will find separate sections (or tabs) for both Tasks and Events. To properly utilize all of the features, it's important that you understand the differences between the two. Simply explained, an Event is a one-time event. This ...

How Do I Change the Primary Client in a Matter?

If the Primary Client for your Matter changes or you accidentally selected the incorrect Contact, you can always change this field. If you would like to change the role of any Contact other than the primary client, this will be done differently. ...
Status
Experiencing degraded performance in CARET Legal?