How to Charge Interest on Overdue Bills?
Occasionally, you may have clients who have overdue invoices. If you wish to charge them interest, or a late fee/penalty, you now have that option in Zola Suite.
Before Interest charges can be generated, you must first enable this setting under Firm Settings -> Billing & Accounting -> Billing Options. On the right-hand side, check off the box labeled "Charge Interest by default for invoices that are paid late"


You can then customize the wording that will display on the interest line under the "Name of Interest Charge"
Once enabled on the firm level, you can now begin enabling interest to both Contacts/Matters.

New Person/Company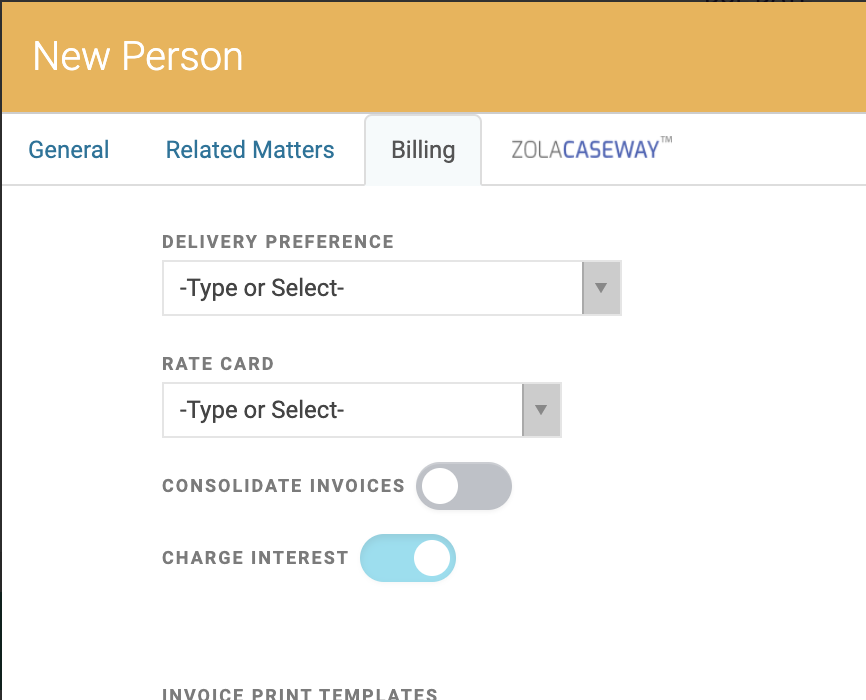 New Matter


At 12am each evening, qualifying invoices will have interest assessed as assigned to the matter as a Billable Interest Charge. This charge will automatically be created in the invoice culumn on the
Time Page,
where you can view all billable activity/WIP. It will immediately be available to be
pulled onto your next invoice
.


These line items will only be available to be added to a new invoice and cannot be added to an existing invoice

They will display on the
General Ledger
under the "Interest Revenue" revenue account on an accrual basis once it has been invoiced, and on a Cash basis once it has been paid by the client.
Related Articles

How Do I Add Interest to My Invoices?

See: How to Charge Interest on Overdue Bills?

How do I share invoices to Quickbooks Online?

Do you use Quickbooks Online as your Primary Accounting program? If you wish to continue using Quickbooks Online to manage your Billing, but wish to use Zola Suite for Practice Management, you can generate bills for Time and Expenses then share them ...

How Do I Invoice Hard and Soft Costs For a Flat Fee Matter?

In general invoices for a flat fee matter will come from a blank invoice with a service for the flat fee. However, if you are looking to also add soft and hard cost expenses to the invoice as well you will need to create the invoice from unbilled ...

Can Invoices Be Customized?

Absolutely! We recognize the need to make all touchpoints with your clients consistent with your firm's branding. You can easily select the information you'd like included, upload your logo, select fonts and customize colors through "Invoice ...

How Do I Share Invoices With My Clients Through Zola Suite?

There are 2 ways that you can share invoices within Zola Suite: Send the invoice as an Email attachment or "Share via Caseway" To get started: Go to "Invoice & Payments" tab in the Accounting section Click on the More Actions button of the individual ...
Status
Experiencing degraded performance in CARET Legal?