What Are the Different Billing Types?
Within CARET Legal, there are multiple options for how you would like to bill each Matter.

The Billing Type is selected at the time of matter creation, but can be edited at any time in the Matter Options.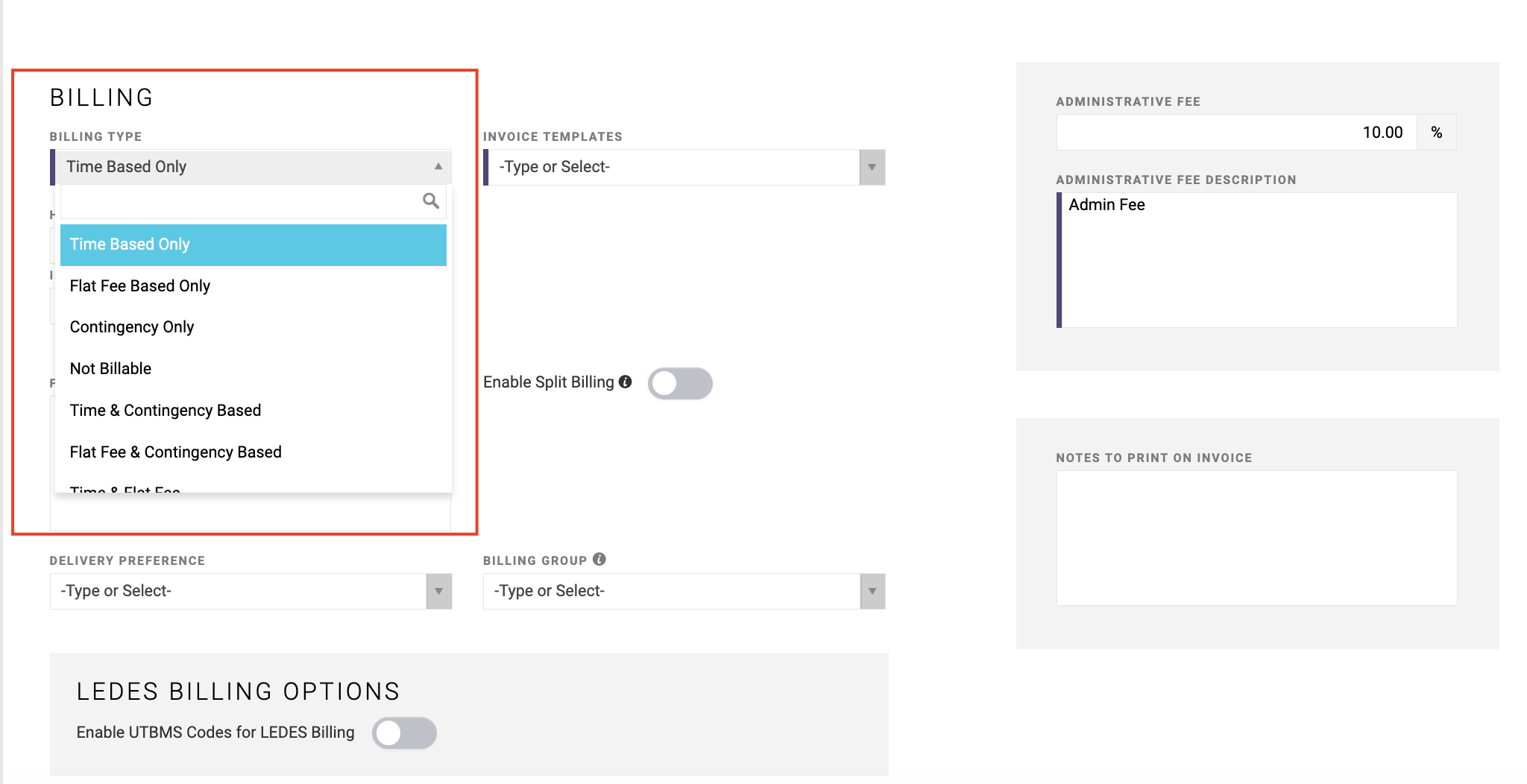 Below is a list of the options offered, and how each impacts the billing in relation to the time entries you create:








Related Articles

How Do I Add User Rates to a Matter?

If you need to add a special rate to a specific Matter that is outside of your default rate and rate cards, then you will want to set up user rates within that specific Matter. Select the 'Options' tab inside of the Matter Scroll down to 'User Rates' ...

What Are Rate Cards and How Do I Use Them?

If you have a specific user rate that you use over and over again rather than having to set up user rates in the Matter or assign them to a Contact, you can create a rate card. These Rate cards can be selected on a Contact or for a Matter. To create ...

How Do I Add/Edit My Default Billing Rate?

Your default rate is going to be the rate you use most commonly for billing. To set up or edit your default billing rate: Go to your 'My Settings' Scroll all the way to the bottom under 'Billing' Click inside of the 'Default Rate' box and fill in or ...

What are Billing Groups and how do I use them?

There may be situations where you will need to categorize or filter matters for billing purposes that we do not have default data fields for. In these instances, you can make use of "Billing Groups" to establish custom filters when generating ...

How Do I Add a Rate Card to a Matter?

Once you have already created your Rate Cards, you can add them to either a Matter itself or to a Contact. To add a Rate Card to an existing Matter: Go to the Options tab within the Matter Scroll down to Rate Cards and select from the drop down
Status
Experiencing degraded performance in CARET Legal?