What are Work Categories?
Work Categories are any time-based work, or hourly services, that you charge for. They will be made available to you when creating new Time Entries and will show up on Invoices if a description is not provided.
In your Firm Settings under the 'Billing & Accounting' section, under 'Time Entry Categories' you will be able to find the existing 'Work Categories' available for use at your firm.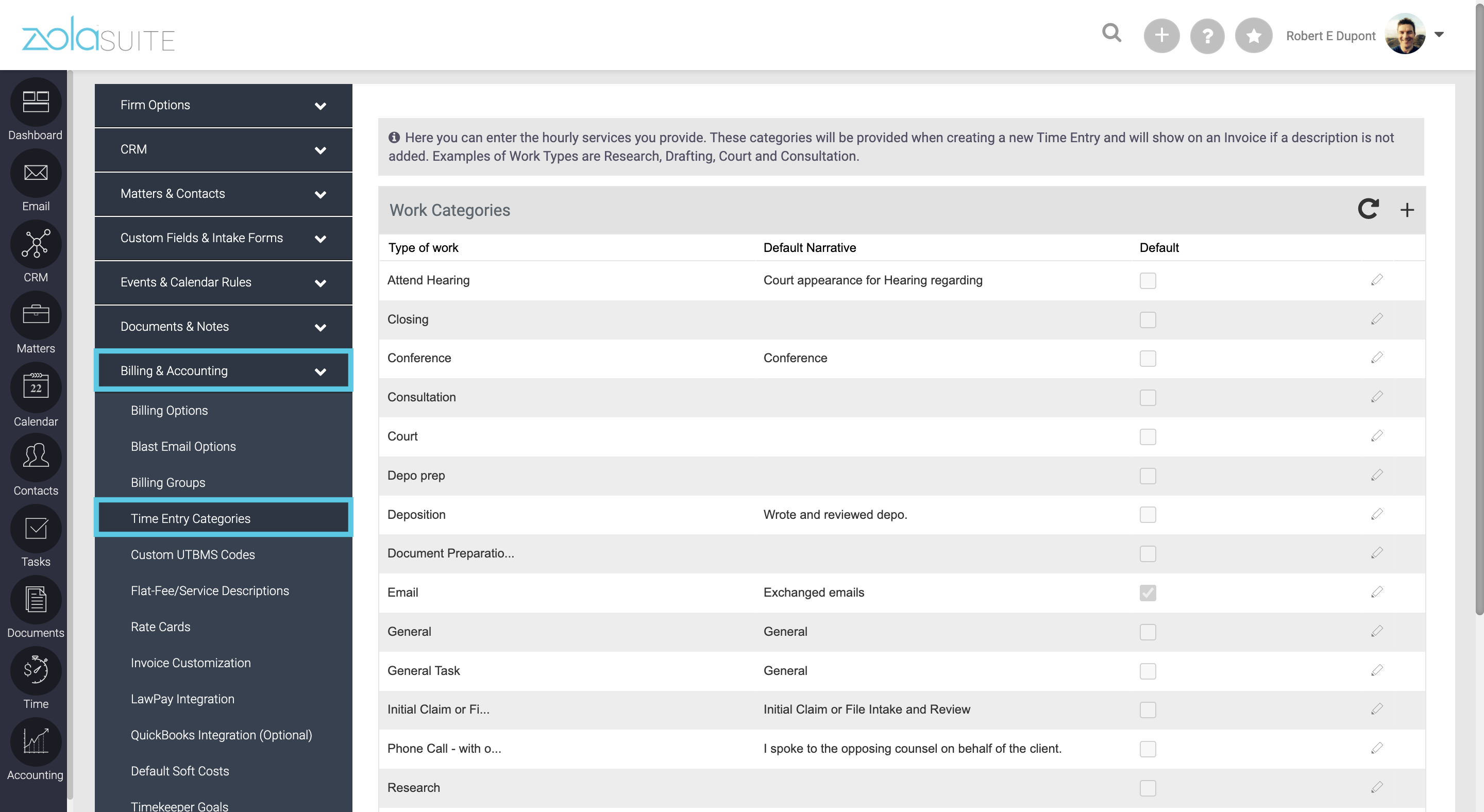 New Work Categories can be added by clicking the + sign, and filling out the required 'type of work' field and a default narrative if appropriate:

Related Articles

What is the Difference Between "Work Categories/Type" and "Services"?

"Work Categories/Type" and "Services" serve two different purposes within Zola Suite. Work Categories/Types are mainly used for hourly billing, while Services are for a flat fee service. A "Work Category" would be the type of work or task you are ...

Can I Upload Time Entries and Expenses from a Spreadsheet?

You can now easily import a spreadsheet with time entries and expenses through your Zola Suite account without the assistance of Zola's migration team. Contact us for copies of these import templates. Once you have filled out your Time or Expenses ...

How Do You Filter Time Entries by User?

If you are looking to see all Time Entries entered by a specific user you can do so by using the Advanced Search in the Time section. You can also utilize the other filters to make your search even more granular. To use the Advanced Search: Go to the ...

What Is the Difference Between Actual Time and Billable Time?

The time that you enter into Zola Suite is called actual time. If you are billing using an increment, billable time will be the amount of time you bill your client once it has been rounded up using your increment. For instance, you work on drafting ...

How Do I Print All Time Entries for a Matter?

You are able to print out all Time Entries for a Matter and use the advanced search to narrow down your results. Zola Suite offers two ways of printing. You can do this using the Export function which downloads the data into CSV format and Print to ...
Status
Experiencing degraded performance in CARET Legal?