What is a Registered Email Message?
Whenever you send an email message using the RMail/Zola Suite integration, you will receive a Registered Receipt™ email within two hours. This Registered Receipt™ will provide the delivery status, time of delivery as well as a delivery audit trail. At any time, you can forward the Registered Receipt email and attachments to Verify@rpost.net and you will receive a 3rd partner verification of the receipt and original message content.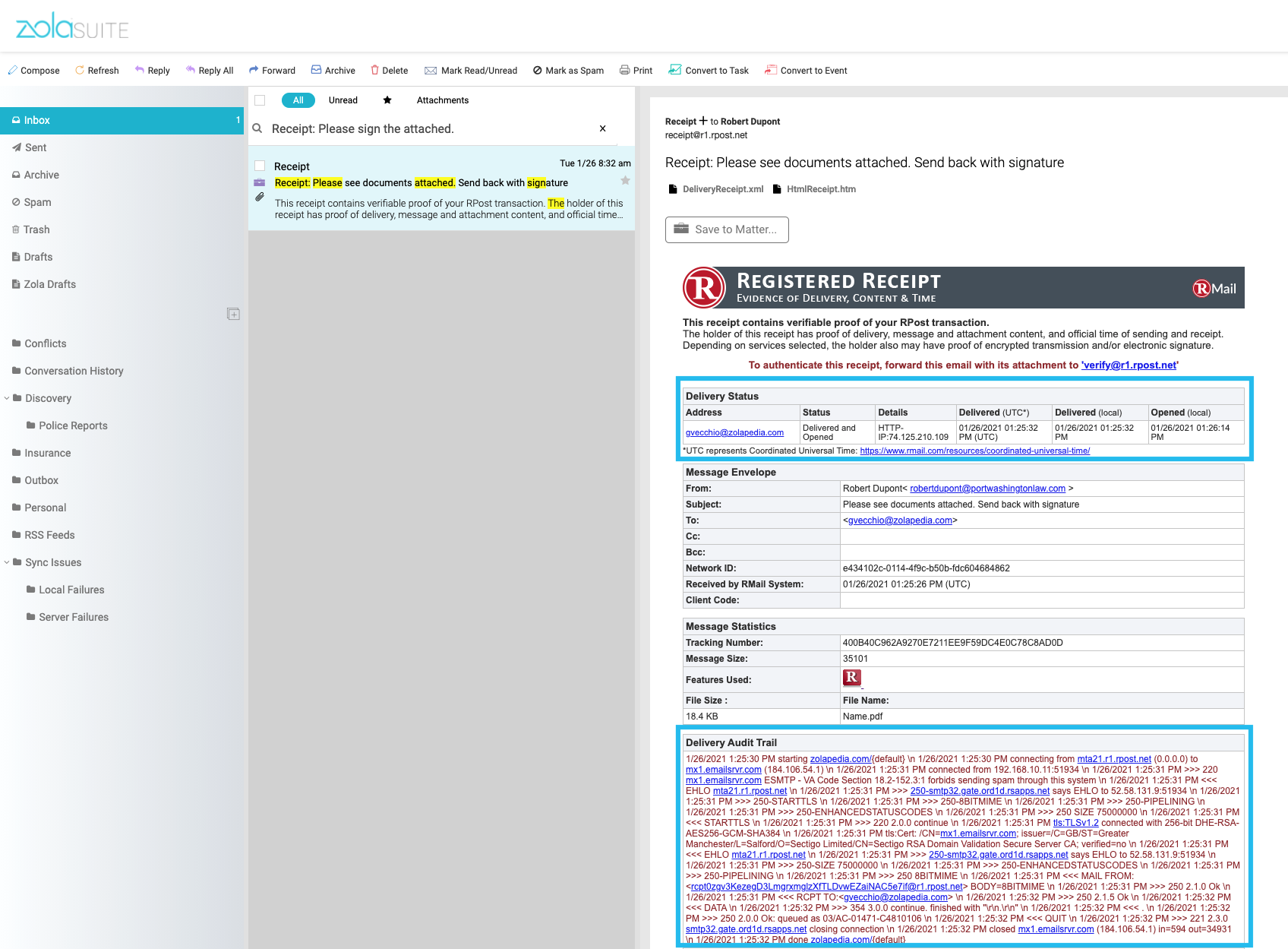 Related Articles

Email Setup Overview

Zola Suite's Email integration allows you to connect an existing email account to Zola Suite to help you manage your day-to-day tasks in one location. Follow the steps below to get started: When you log into Zola Suite, the first page you will see is ...

Why does my email account keep getting disconnected?

If you see a message that your email account was unauthenticated in Zola Suite, it means that your email provider has disconnected our access to your email account. This is usually caused by IMAP being disabled or your email account password being ...

What is an Encrypted Email?

Email encryption is a process that disguises the content of email messages to protect its contents from being read by anyone other than the intended recipients. RMail uses 256-bit AES encryption and provides options for secure end-to-end delivery. If ...

How Can I Connect My Email Using Modern Authentication?

If you are using Microsoft Office 365 or Microsoft Exchange hosted email, the following steps will walk you through granting the Zola Suite Email Client permissions within Azure. These are needed for Email Sync for Zola Suite. As a prerequisite, have ...

How Do I Register My Email Account in Zola Suite?

If you are looking to sync your email account with Zola Suite, change the email account registered, or even restart the connection between your email account and Zola Suite you will need to Re-register. Go to "My Settings" Scroll down to Email Setup ...
Status
Experiencing degraded performance in CARET Legal?