What is a "Task Template"?
If you are like most firms, many of your cases follow a consistent process or workflow. To make case management a bit more efficient, you may consider creating a
task
group which is series of sub-tasks that is remembered for future cases and can be carried over, reducing error and saving you time. It's important to note that a saved template just stores the steps and not who each activity was assigned to; you can enter these details for each instance which uses the Task Template.
Below is an example of a task template: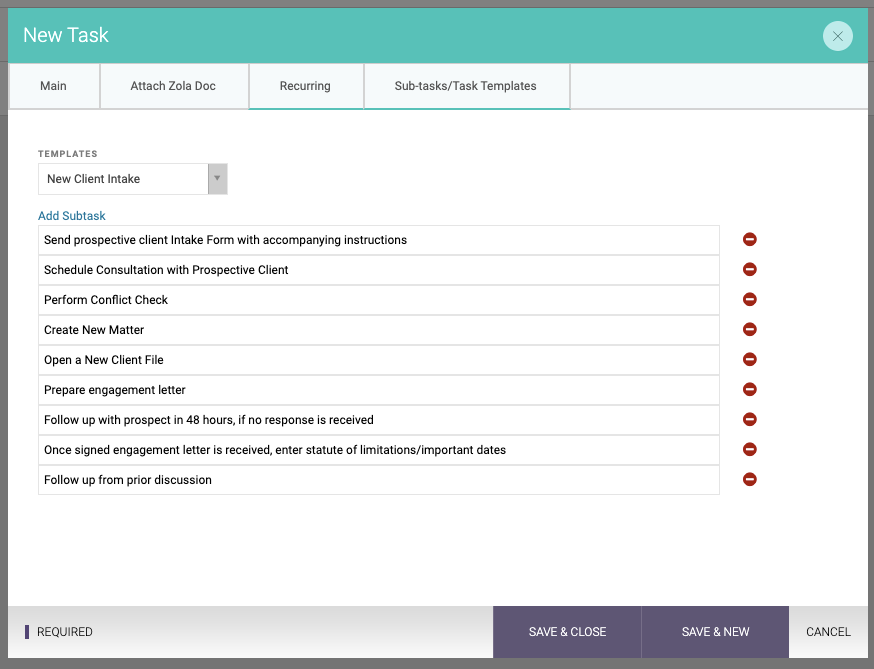 Related Articles

How Do I Create a Task Template?

If you are looking to create a template with multiple steps that need to be completed, you can create and edit Task Templates by going to Task Template List. This is accessible through the Task section (there is a Task Templates link on the colored ...

What Are Sub-Tasks?

Certain tasks, like filing a bankruptcy petition or preparing a contract for the sale of a home, have a number of steps which must be completed. Subtasks allow you to break up a parent task into more granular steps. As you complete the subtasks you ...

How Do I Convert an Email to a Task?

If you are in an email and the contents require you or a colleague to Task you can convert that email to a Task quickly and easily within Zola Suite! Navigate to the Email Section Find the email you would like to convert to a Task and click on it. ...

How Do I Create a Document Template?

Document Templates are Word and PDF documents that you can use over and over again, but with specific details changing from Matter to Matter. These templates are used to create a new document. An example might be a letter where you wish to have the ...

How Do I Edit an Existing Task?

Editing existing Tasks in Zola Suite can be done using the following steps: Navigate to the Task Section, either on the Dashboard or from the left side navigation bar. Click on the Pencil Icon to the right of the Task to edit.
Status
Experiencing degraded performance in CARET Legal?