What Is Email Folder Mapping?
Once you
register your email
with Zola Suite, you will be asked to 'map your folders'. When doing this you will want to make sure your Inbox is linked to the dropdown menu option for "
Inbox
," Sent to "
Sent Items,
" etc. so that Zola Suite will know where to put your emails. These are
Zola Suite's default email folders
(Inbox, Sent Items, Drafts, Deleted Items, Junk Email).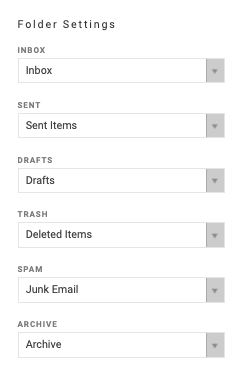 Language may vary based on email provider. Some providers may label "Trash" as "Deleted Items" and "Spam" as "Junk Mail"
Related Articles

How Do I Add Folders for My Documents?

Zola Suite's document manager allows you to keep all of your documents organized and separated by adding folders and subfolders. Go to the documents section If you are inside of the Matter, go to the Documents tab. If you are in the designated ...

Can I Import Document Folders from my Computer?

You can upload folder hierarchies into Zola Suite by either dragging the folders to the Documents grid or to the Document upload window. The layout of the folder hierarchy will stay intact and will show as new subfolders of the folder they were ...

Email Setup Overview

Zola Suite's Email integration allows you to connect an existing email account to Zola Suite to help you manage your day-to-day tasks in one location. Follow the steps below to get started: When you log into Zola Suite, the first page you will see is ...

How Do I Register My Email Account in Zola Suite?

If you are looking to sync your email account with Zola Suite, change the email account registered, or even restart the connection between your email account and Zola Suite you will need to Re-register. Go to "My Settings" Scroll down to Email Setup ...

Why Should I Add My Email Account to Zola Suite?

Email is an essential piece of Zola Suite, and the one time setup is quick and painless. With our native email client, you get all the features of a regular email client in addition to being able to: Assign multiple emails to a matter with a click of ...
Status
Experiencing degraded performance in CARET Legal?