What Types of Email Accounts Does Zola Suite Support?
Zola Suite's
email client
is designed to work best with Gmail/G Suite accounts and Office 365 accounts through Microsoft. Zola Suite is able to connect with other accounts via IMAP, but this is not recommended.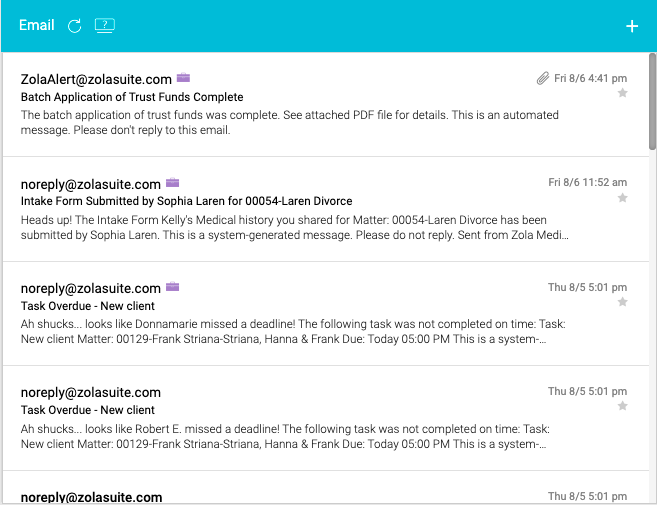 Learn
how to set up your email account in Zola Suite
Related Articles

Zola Suite Support

If you are in need of any assistance or would like to submit feedback please contact our support team: General Support Phone: ‭(855) 965-2360‬ Email: support@zolasuite.com Submit a Ticket from Help Center Submit a Ticket from Zola Suite - Zola ...

How Do I Register My Email Account in Zola Suite?

If you are looking to sync your email account with Zola Suite, change the email account registered, or even restart the connection between your email account and Zola Suite you will need to Re-register. Go to "My Settings" Scroll down to Email Setup ...

What Are My Email Server Settings?

When syncing your email with Zola Suite, if you have an email that is hosted by anyone other than Microsoft Office 365/Exchange or G Suite/Gmail you will need to select 'Other' and get your email server settings for an IMAP connection. Every email ...

How Do I Stop My Email From Syncing in Zola Suite?

Zola Suite is able to sync with your existing email provider. If you wish to stop the sync at any time, reach out to support so we can remove your account on our end. If you wish to stop sync so you can register a different email account, simply ...

Email Setup Overview

Zola Suite's Email integration allows you to connect an existing email account to Zola Suite to help you manage your day-to-day tasks in one location. Follow the steps below to get started: When you log into Zola Suite, the first page you will see is ...
Status
Experiencing degraded performance in Zola Suite?