When I Create a New Task, I See I Can Choose a Color for It. What Is This for?
The colors are simply for organization or priority. Choosing one of these colors will add a vertical stripe of that color to the left of the task in the list view. This allows you to be able to differentiate certain tasks from others as well as efficiently organize by color coordinating. For example, all tasks related to internal operations may be represented by red. Use these colors as you like to keep organized and work efficiently.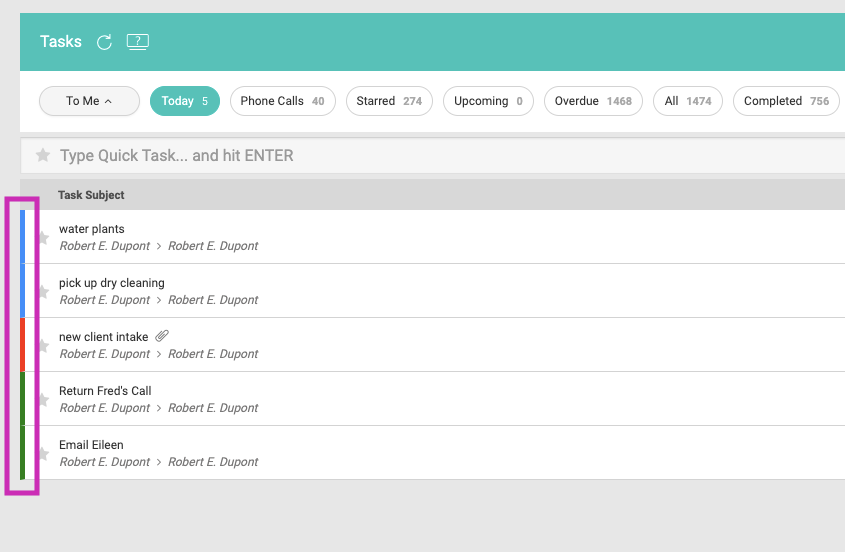 Related Articles

How Do I Create Leads?

If you would like to enter a Lead manually into your Zola CRM you can do so by multiple ways: Using the Quick Add tool on the white toolbar From the CRM section, click on the plus sign on the color bar Both of the above options will bring you to the ...

How Do I Make a Time Entry for My Task?

In Zola Suite you have the ability to easily create a Time Entry for any completed Task. Follow the below directions to learn how to create a time entry for a task: First navigate to the task section of Zola Suite. This can be done through your ...

How Do I Assign a Task to a Matter?

When you are creating or editing a Task you have the ability to assign the Task to a specific Matter. If you click on the drop-down list under Matters, you will be able to select the Matter and upon Save, you will see the task in the Task tab in ...

What Is the Difference Between a Task and an Event?

Within each matter, you will find separate sections (or tabs) for both Tasks and Events. To properly utilize all of the features, it's important that you understand the differences between the two. Simply explained, an Event is a one-time event. This ...

How Do I Create a Task Template?

If you are looking to create a template with multiple steps that need to be completed, you can create and edit Task Templates by going to Task Template List. This is accessible through the Task section (there is a Task Templates link on the colored ...
Status
Experiencing degraded performance in CARET Legal?