Who Has Access to Emails Saved to a Matter?
Any firm users who can access the
Matter
will be able to see all related correspondence within the Communications tab of that Matter.
These emails saved to a matter can be found by going into a specific matter and clicking on the Communications tab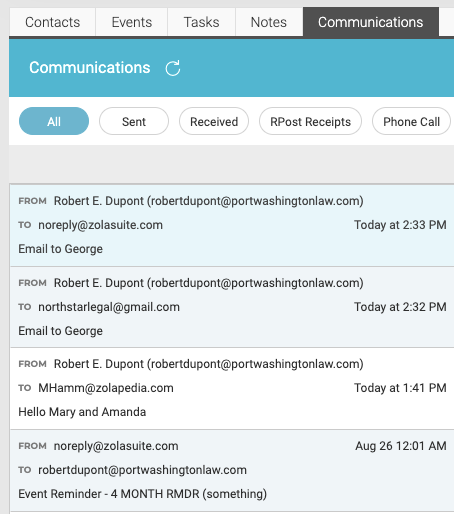 If there is an email message which should not be viewed by all, make sure that it is not associated with any shared Matters. You can easily remove a tag within your inbox.
Simply navigate to your inbox:





Notice the associated Matter on the email view.
Click remove:




Related Articles

How Do I Assign Multiple Emails to a Matter?

Do you ever need to assign multiple emails to a single Matter? In Zola Suite, you can relate emails to a Matter in bulk. Once the Email Section has opened up, click on the box to the left of the email to select it. Select all the emails that you ...

How Do I Disassociate an Email From a Matter?

With Zola Suites email feature, you are able to assign an email to a matter. If you assign the email to an incorrect Matter or you just do not want the email saved anymore, you can unlink/delete the email. If the email is still stored in your email ...

How Do I Assign a Task to a Matter?

When you are creating or editing a Task you have the ability to assign the Task to a specific Matter. If you click on the drop-down list under Matters, you will be able to select the Matter and upon Save, you will see the task in the Task tab in ...

What is the difference between a Pending Matter and an Open Matter?

When you create a new matter, you may assign a status to the case. You will find three options here: Open Pending On Hold Closed There is often some confusion regarding the difference between Open and Pending. Generally speaking, Open should be ...

Will All Responses in an Email Chain Automatically Save to the Matter?

No, all subsequent emails in the same thread will not be assigned to the Matter by default. However, all messages from a contact associated with a Matter will show a purple briefcase next to the sender's name. By hovering over the briefcase, you will ...
Status
Experiencing degraded performance in CARET Legal?